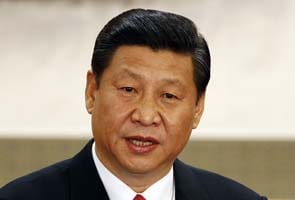 Beijing:
China's Communist Party faces "severe challenges" including corruption and alienation from the people, Vice President Xi Jinping said Thursday after being appointed head of the ruling party.
"The party faces many severe challenges, and there are also many pressing problems within the party that need to be resolved, particularly corruption, being divorced from the people, going through formalities and bureaucratism caused by some party officials," Xi said.
"We must make every effort to solve these problems. The whole party must stay on full alert," he added, speaking on a stage in Beijing's Great Hall of the People before hundreds of Chinese and foreign journalists.
Appearing relaxed and confident, Xi spoke for about 19 minutes after succeeding Hu Jintao as general-secretary of the all-powerful Communist Party, handing him the reins of the world's most populous country and second-largest economy.
He is expected to also succeed Hu as state president in March.
Xi's long expected ascension to the apex of Chinese power means he will lead a reshuffled and streamlined steering committee for the party comprising seven members, down from nine before.
Xi will govern for the coming decade amid growing public anger over corruption and frequent reports of abuse of power by officials.
The party also says it must transform the economy away from a reliance on exports and investment with more focus on private enterprise and consumer demand.
Xi, standing on stage with six other members of the party's all-powerful Politburo Standing Committee and wearing a red tie, took the opportunity to thank the party. His speech was broadcast live on state television.
"On behalf of the members of the newly elected central leadership, I wish to express our heartfelt thanks to all other members of the party for the great trust they have placed in us," Xi said.
"We will strive to be worthy of their trust and fulfil our mission," Xi said.
The highly choreographed appearance began at 11:54 am (0354 GMT) with the members of the standing committee filing into a room in the hall in order of rank lead by Xi, who waved as he entered.
He took no questions after his speech.
© Thomson Reuters 2012