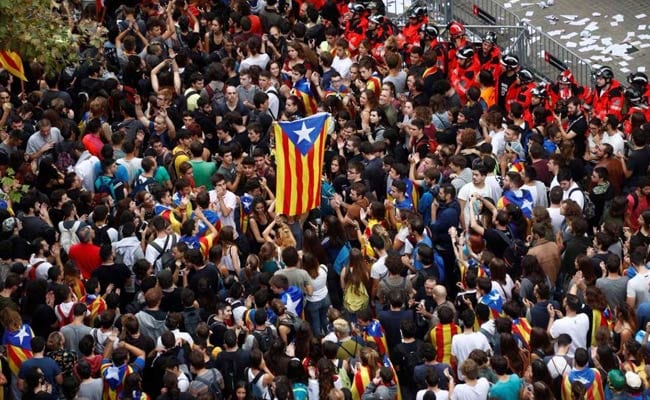 Barcelona:
Catalonia's leader accused Madrid on Saturday of waging the "worst attack" on his region since dictator Francisco Franco after the central government took drastic measures to stop it from breaking away.
In a televised announcement, Carles Puigdemont said Madrid was failing to respect the rule of law after Prime Minister Mariano Rajoy announced he would move to dismiss Catalonia's separatist executive, take control of regional ministries and call elections. The premier said he had no other choice faced with the threat to national unity.
Puigdemont said the measures were "incompatible with a democratic attitude and do not respect the rule of law," calling on the regional parliament to meet over the crisis.
He accused the Spanish government, which still has to get approval from the Senate to implement the measures, of waging "the worst attack on institutions and Catalan people since the decrees of military dictator Francisco Franco abolishing the Catalan government".
Franco ruled Spain with an iron fist from 1939 to his death in 1975, and among other repressive measures took Catalonia's powers away and officially banned the Catalan language.
Cautious, though, Puigdemont did not once say the word "independence" as Spain and the rest of the EU waits to see if he declares a unilateral break from Spain after the region held a banned independence referendum on October 1.
Puigdemont delivered most of his short speech in Catalan, but also switched to Spanish and English.
In Spanish, he accused Madrid of "attacking democracy".
And in English, he said European values were at risk.
"Democratically deciding the future of a nation is not a crime," he said.
Furious, 450,000 supporters of independence protested in Barcelona earlier Saturday.
(Except for the headline, this story has not been edited by NDTV staff and is published from a syndicated feed.)