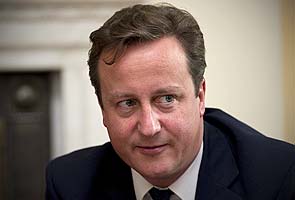 Dubai:
British Prime Minister David Cameron said he would support granting Syrian President Bashar al-Assad a safe passage out, if requested, to end the nation's bloodshed, in a television interview Tuesday.
Asked what he would say if Assad asked for a safe exit, Cameron told Saudi-owned Al-Arabiya TV: "Done. Anything, anything to get that man out of the country and to have a safe transition in Syria."
"Of course, I would favour him facing the full force of international law and justice for what he's done," he said, according to a transcript of the interview made available to the press.
"I am certainly not offering him an exit plan to Britain but if wants to leave, he could leave, that could be arranged," he added.
Cameron who is on a tour of the Middle East, arrived on Tuesday in Saudi Arabia after concluding a two-day visit to the United Arab Emirates.
"I am very frustrated that we can't do more," Cameron said.
"This is an appalling slaughter that is taking place in our world today -- 40,000 lives lost already and you can see, on your television screens, night after night, helicopters, airplanes belonging to the Assad regime pounding his own country and murdering his own people," he said.
Cameron highlighted the need to help the opposition, without elaborating how.
"We must ask ourselves what more can we do: how can we help the opposition? How can we put the pressure on Assad? How can we work with partners in the region to turn this around?" Cameron said.
But when asked about arming the rebels, he said: "We are not currently planning to do that. We are a government under international law and we obey the law."
"My fear is, firstly, that the slaughter will continue, that the loss of life will continue. That should be our number one concern.
In August, Foreign Secretary William Hague said Britain would give Syria's rebels £5 million ($8 million) in assistance, including body armour and communications equipment, to use in their fight against Assad's forces.
Hague said at the time that weapons would not be provided but that Britain would step up contacts with opposition groups to lay the ground for a political solution.
The Syrian National Council umbrella opposition group is holding intensive talks in Qatar to broaden its membership to include other opposition factions as Washington mounted pressure for a wider representative body.