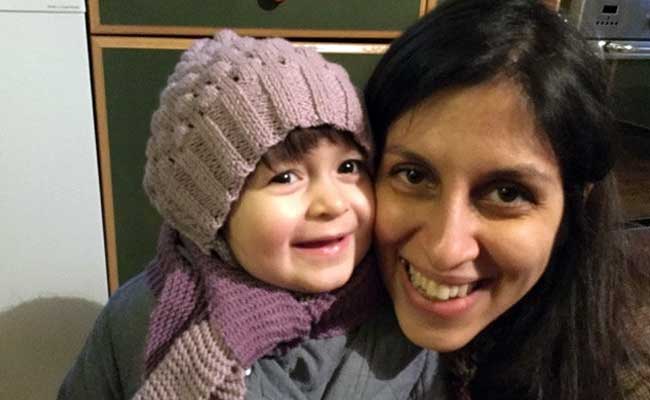 Dubai:
A British-Iranian aid worker, Nazanin Zaghari-Ratcliffe, detained since early April and accused by hardline Revolutionary Guards of trying to overthrow Iran's government has appeared in court for the first time, her family said on Tuesday.
Her husband, Richard Ratcliffe, has dismissed the Revolutionary Guards' accusation.
In a statement, the family said Zaghari-Ratcliffe, arrested as she tried to leave Iran after a short visit with her two-year-old daughter, appeared in the Revolutionary Court on Monday. The court handles security-related cases.
"When I spoke to Nazanin yesterday, she was deeply upset," Richard Ratcliffe said.
"She is desperate that our daughter has been kept away from her mother and father now for four months," he said, noting, "This remains a very cruel case."
A judiciary spokesman could not immediately be reached for comment.
Zaghari-Ratcliffe, 37, works for the Thomson Reuters Foundation, a London-based charity that is independent of Thomson Reuters and operates independently of Reuters News.
In a telephone conversation with her husband after the first hearing, Zaghari-Ratcliffe said that she would be allowed access to a lawyer. She was not allowed to share any of the details of that court session over the phone, the family said.
"(Zaghari-Ratcliffe's family) were instructed to present her lawyer's name for approval by the judge," the family said.
Such permission is required by Iranian law if an individual is accused of national security-related crimes. The lawyer must be approved by the head of the judiciary.
John Ratcliffe, who is Nazanin's father-in-law and a British lawyer, has approached the Iranian Embassy in London for a visa to attend the next trial. No date for the trial has been announced.
Several Iranian dual nationals from the United States, Britain, Canada and France have been detained in the past few months and are being kept behind bars on various charges, including espionage or collaborating with a hostile government.
In a statement, Thomson Reuters Foundation CEO Monique Villa said Nazanin-Ratcliffe "should soon be able to see a lawyer for the first time in her four months of detention, including 45 days in solitary confinement".
"We do not know what the exact charges against her are."
She said that, in her professional capacity at the Thomson Reuters Foundation, Nazanin had never dealt with Iran, and that the Foundation had no dealings with Iran whatsoever.
"We are in permanent contact with Nazanin's husband Richard, and have contacted all British authorities to intervene. We insist this matter should be resolved as soon as possible, not least given her precarious state of health," Villa said.
© Thomson Reuters 2016
(This story has not been edited by NDTV staff and is auto-generated from a syndicated feed.)