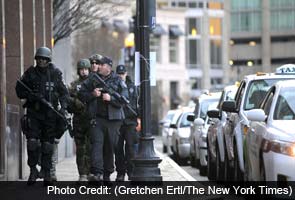 Boston:
The day after two bombs exploded near the finish line of the Boston Marathon, a mile-square area around Copley Square here remained cordoned off as a crime scene, and officials still had no one in custody. However, investigators searched a house in a nearby suburb late Monday night.
Hundreds of runners who had expected to leave Boston Tuesday morning with a sense of triumph after a night of celebration left instead with heavy hearts after at least three people were killed. The bombings also sent 176 people to area hospitals, including 17 who were critically injured, Police Commissioner Ed Davis of Boston said Tuesday.
Among the dead was an 8-year-old boy, identified by The Boston Globe as Martin Richard of Dorchester. Friends and family gathered Monday night at a restaurant to mourn him; he had been watching the marathon with his family, and his mother and a sister were badly injured. The names of the other victims have not been made public.
Late Monday night, law enforcement officials descended on an apartment building in the suburb of Revere, about five miles north of Copley Square. They were seen entering the Water's Edge apartment complex at 364 Ocean Ave., but officials provided no details of what local news accounts reported was a search. Authorities have not announced any arrests, and so far, no one has claimed responsibility as the police conduct what they said was "a criminal investigation that is a potential terrorist investigation."
Among those injured were two brothers who had been watching the race. Both lost a leg from the knee down in the explosion. The men, ages 31 and 33, were taken to different hospitals and had lost track of each other until their mother and other family members found them. Their names were not made public.
City streets that normally would be clogged at rush hour were largely deserted Tuesday except for a cold wind and a few runners out for a morning jog.
"It's very surreal," said Mary Ollinger, 32, who works at Wentworth Institute of Technology. "The streets are empty and the Common is filled with media trucks."
At rush hour, the city's subway system was uncharacteristically quiet, watched over by a heightened police presence and SWAT team members.
One Boston resident gazed at the media corps that had swollen in the Public Garden's southwest corner.
"There's so much media," she said, nearly in tears. "It's so sad."
Parts of the city seemed to have ground to a halt: Stores on Newbury Street, Boston's busy retail thoroughfare, were closed, and tables on the patio at Stephanie's, a restaurant there, were still covered in dishes left there Monday.
Metal barriers and more police guarded a 15-block crime scene around the blast, forming something of a black hole in a busy retail and business district in this city. Inside, the streets were still littered in the detritus of the marathon - runners' blankets, water bottles, even a pile of bananas.
Hundreds if not thousands of office workers avoided the city on Tuesday because of the closures.
Maria Luna, 38, who lives in Watertown and usually commutes by bus to her job as an investment analyst at John Hancock, said she was staying home.
"My manager told me it would be very limited access," she said by phone.
The emergency protocol in her office was activated, she said, meaning that essential workers, like those who must move cash on a time-sensitive basis, could report to an off-site disaster recovery station in Portsmouth, N.H., where the company has computers.
She said she felt a combination of sadness and terror. "Right now I have a big ball in the pit of my stomach," she said.
Many runners, clad in the blue and gold jackets given to this years' marathoners, made pilgrimages to the blockade on Boyleston, pausing to take pictures with their cellphones. Others came wearing jacket from previous marathons - the symbol of accomplishment had, apparently, turned into a sign of solidarity.
Alison Gardner, a marathoner from Austin, Texas, who completed the run Monday about 10 minutes before the blasts, left a potted hydrangea and tucked a bunch of tulips into the metal barrier.
"It's supposed to be a day of celebration today, and it's a day of sadness," said Gardner.
Her companion, Bonnie Yesian, is among many visitors still marooned in the city, because her hotel - and her luggage and identification - is inside the crime scene.
"I can't fly, so I'm stuck," said Yesian, who said strangers and marathon volunteers had offered her guest rooms and supplies in the meantime.
While many area colleges were open Tuesday, Emerson College said it cancelled classes "for healing and reflection."
Pat Cramer, 44, of Moorestown, N.J., who ran the race Monday, said he and a friend would try to see some of Boston, agreeing that they did not want the bombings to change their lives.
"If you change your life, they win," he said, a common refrain after the Sept. 11 attacks although in this case, no one knows yet who "they" are.
White House officials said President Barack Obama received updates overnight about the investigation from Lisa Monaco, his chief counterterrorism and homeland security adviser.
"The president made clear that he expects to be kept up to date on any developments and directed his team to make sure that all federal resources that can support these efforts, including the investigation being led by the FBI, be made available," a White House official said.
Obama is to be briefed again later Tuesday by Monaco and the director of the FBI, Robert Mueller.
Almost three-quarters of the 23,000 runners who participated in the race had already crossed the finish line when a bomb that had apparently been placed in a garbage can exploded around 2:50 p.m. amid a crowd of spectators on Boylston Street, just off Copley Square in the heart of the city. Thirteen seconds later, another bomb exploded several hundred feet away.
The FBI took the lead role Monday night, and Richard DesLauriers, the special agent in charge of the bureau's Boston office, described the inquiry at a news conference as "a criminal investigation that is a potential terrorist investigation."
On Tuesday officials said that the only explosive devices found were the ones that exploded at the marathon - clarifying conflicting statements that were given Monday in the chaotic aftermath of the blast, when some law-enforcement officials had said that other devices were found.
"There were no unexploded devices found," Gov. Deval Patrick said Tuesday.
Gene Marquez, the acting special agent in charge of the Boston field division of the Bureau of Alcohol, Tobacco, Firearms and Explosives, said at a news conference Tuesday that earlier incorrect reports that unexploded devices had been found may have stemmed from "some suspect packages that were disrupted" after the blasts but which turned out not to be bombs.
Steve Mahan, a South Boston resident who is a manager at the Jos A Bank clothing store on a blockaded section of Boyleston Street, hovered near metal barrier closest to his store, which he said could be closed for another couple of days.
"They clean this up pretty quick after a race," he said, of the marathon's frozen mess. "You see this now, you know how bad it was."
It was unclear Monday evening who might be responsible for the blast. Although investigators said that they were speaking to a Saudi citizen who was injured in the blast, several law enforcement officials took pains to note that no one was in custody.
The Saudi man, who was interviewed at Brigham and Women's Hospital, had been seen running from the scene of the first explosion, a person briefed on preliminary developments in the investigation said Monday. A law enforcement official said later Monday that the man, was in the United States on a student visa and came under scrutiny because of his injuries, his proximity to the blasts and his nationality - but added that he was not known to federal authorities and that his role in the attack, if any, was unclear.

(John Eligon reported from Boston, and Michael Cooper from New York. Reporting was contributed by Steve Eder, Ashley Parker, William K. Rashbaum, Katharine Q. Seelye and Mary Pilon from New York; Mark Landler, Michael S. Schmidt, Eric Schmitt and Abby Goodnough from Washington; and Joel Elliott, Dina Kraft, Tim Rohan and Brent McDonald from Boston.)

© 2013, The New York Times News Service