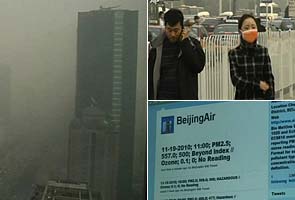 Beijing:
It wasn't a blue sky day in China's capital, not with a ghostly gray cloud of pollution hanging over the city, obscuring the view of the Beijing skyline.
To get a blue sky day the air quality index needs to be under 100. But it was at the opposite end of the scale Friday, so awful, in fact, that the U.S. Embassy ran out of adjectives to describe it, at one point settling for crazy bad, although that label was deleted later.
The embassy said it was working to revise the language to use when the air quality index climbs above its highest point of 500 -- considered dangerous for all by American standards.
The hazardous haze has forced schools to stop outdoor exercise. Health experts asked those with respiratory problems to stay indoors.
One teacher said he was feeling the effects of the foul air.
"Beijing had a massive cleanup for the 2008 Olympics -- planting trees, closing factories in the area and even cutting back on traffic. But most restrictions are gone now and the air is worse than ever," said retired official Hu Weiliang.
One activist said Beijing needs to place more of a priority on the environment. In the face of such dirty air, it's not likely he'd find many who'd disagree with him.