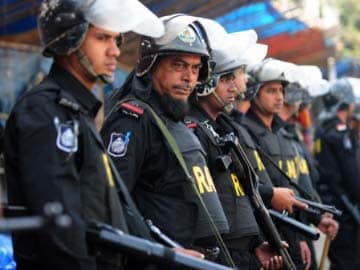 Dhaka:
Bangladesh's 18-party opposition coalition confirmed on Monday it would boycott a general election scheduled for January, making the announcement hours before the nominations deadline and plunging the country into renewed political uncertainty.
The main opposition Bangladesh Nationalist Party (BNP) announced the decision amid growing street violence that has left 51 people dead since late October and a string of strikes that have paralysed large parts of the country.
Of the total, 21 have been killed since November 25, when the election date was announced, sparking a fresh round of opposition protests.
Another protester died in the western town of Natore on Monday during clashes between hundreds of BNP supporters and ruling party activists, police said.
"There is no question of us filing nominations for the January 5 election under the present circumstances. We're not going to take part in the January 5 elections," Shamsher Mobin Chowdhury, a BNP vice president, told AFP.
Nominations close at 5 pm (1100 GMT) on Monday and election officials said no BNP officials had filed by midday.
Chowdhury said the BNP and its 17 smaller allies including the country's largest Islamic party would only change their minds "if the polls are organised by a non-party, neutral government".
The BNP, led by two-times ex-premier Khaleda Zia, has been demanding that Prime Minister Sheikh Hasina quit and make way for a "non-party and impartial" chief executive to oversee the polls.
It believes any polls held under Hasina will be rigged.
Four free and fair polls have been held under caretaker governments in the past two decades, but Hasina scrapped the system in 2011 -- arguing that it was unconstitutional and could pave the way for military coups.
The prime minister has instead formed an interim multi-party cabinet which includes her allies.
Bangladesh has witnessed at least 19 coups since August 1975 when Hasina's father Sheikh Mujibur Rahman, the country's founding leader, was assassinated.
The BNP has said it was still ready for dialogue to resolve the crisis but has accused the government of targeting its leaders.
At least eight senior figures from the BNP have been arrested in recent weeks on suspicion of instigating violence, police said.
Chowdhury said the eight along with hundreds of grassroots opposition activists were detained on "false charges" and most other leaders were now in hiding.
The BNP on Monday extended a 72-hour nationwide transport blockade until Thursday afternoon to press its demands, party spokesman Salahuddin Ahmed said in a video statement from an undisclosed location.
Dozens of rail services have been suspended after opposition activists uprooted tracks, torched coaches and attacked trains with bombs, officials said.
Late Sunday, a train was derailed, with seven coaches falling off the tracks, shutting the link between Dhaka and the major cities of Chittagong and Sylhet, Bangladesh Railway traffic director Syed Zahur Hossain told AFP.
The United Nations rights Chief Navi Pillay on Sunday condemned the deadly street clashes and called for dialogue between political leaders to end "destructive brinkmanship".
"Such levels of violence are deeply shocking for the Bangladeshi people, the vast majority of whom want -- and deserve -- a peaceful and inclusive election," said Pillay, the High Commissioner for Human Rights.
"Whatever their differences, political leaders on both sides must halt their destructive brinkmanship, which is pushing Bangladesh dangerously close to a major crisis."
A senior UN envoy, the assistant secretary general for political affairs Oscar Fernandez-Taranco, is visiting the country from December 6 to try to broker talks between the major parties.
India is sending its foreign secretary, who is scheduled to arrive on Wednesday.
Widespread violence over the death sentences handed down to opposition leaders by a controversial war crimes court earlier this year left more than 150 people dead, making 2013 the most violent since the country gained its independence from Pakistan in 1971.