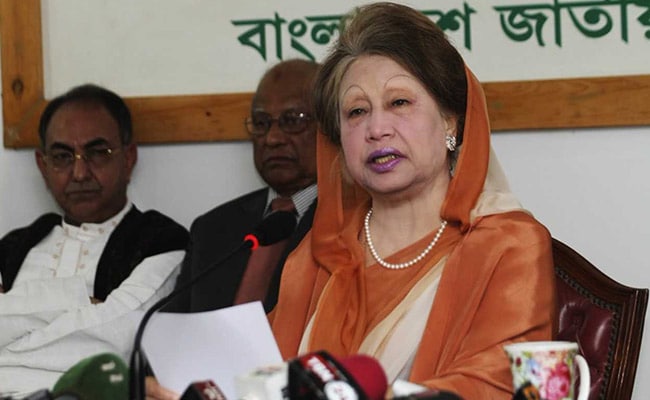 Dhaka:
Bangladesh's High Court deferred the judgement on imprisoned ex-prime minister and main opposition Bangladesh Nationalist Party (BNP) chief Khaleda Zia's bail petition, saying it would decide after receiving necessary papers from the lower court which has sentenced her.
The 72-year-old three-time former prime minister was given
a five-year jail term
by Dhaka's Special Court on February 8 in connection with the embezzlement of 21 million taka (about USD 250,000) in foreign donations meant for the Zia Orphanage Trust, named after her late husband Ziaur Rahman, a military ruler-turned-politician.
"The two-judge bench said it would issue the order on the bail petition after receiving the case documents from the trial court" which is expected to reach the High Court in the next two weeks, a high court official told reporters.
The February 8 verdict virtually shook the country's political scenario ahead of the general elections while the BNP, the main opposition party outside Parliament, alleged that it was politically motivated to debar Ms Zia from contesting elections, an allegation denied by Prime Minister Sheikh Hasina-led government.
The High Court had earlier this week accepted for hearing her bail petition along with prayers, challenging her conviction and ordered authorities concerned to forward the case records in 15 days.
Political analysts feared that the BNP was now exposed to a political wilderness after Ms Zia's conviction, which is likely to disqualify her for elections unless she could obtain a different direction from the Supreme Court.
Ms Zia, however, appears to be seeking to contest the next polls set for December this year.
BNP's secretary general Mirza Falhrul Islam Alamgir earlier last week told a protest rally that the party would not take part in polls discarding Ms Zia and "no national election will be held without BNP Chairperson Khaleda Zia".
But Prime Minister Sheikh Hasina said her government could do nothing if the BNP again decides to boycott the polls over its leader's imprisonment but elections would be held in due time.
In a separate hearing, a court extended the bail of Ms Zia until today in a graft case.
Judge MD Akhteruzzaman of the Special Judge Court-5 here passed the order extending the bail after Ms Zia's barrister Moudud Ahmed submitted a petition seeking an extension of her bail in the Zia Charitable Trust graft case.
The Zia charitable graft case, filed in August 2011, accuses four persons including Ms Zia of abusing power to raise funds for the trust from unknown sources.
The three others are: Harris Chowdhury, political secretary of then prime minister Zia between 2001 and 2006; Ziaul Islam Munna, Assistant Private Secretary (APS) to Harris; and Monirul Islam Khan, APS of former Dhaka city mayor Sadeque Hossain Khoka.
The corruption case is one of dozens pending against Ms Zia, who has been a rival of Prime Minister Sheikh Hasina for decades. The charges against her had already led to her boycotting polls in 2014, which triggered widespread protests at the time.
The BNP has claimed that the cases are politically-motivated to keep its party chief out of the national elections.