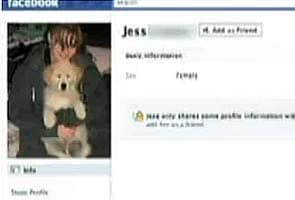 Melbourne:
An Australian teenager had to cancel her birthday party after she received over 180,000 people's response to attend the event that was posted on the social networking website Facebook.
According to media reports, a small house party with a few friends to celebrate 15-year-old Jess's birthday spread out like wild fire and rec1eived the overwhelming response after being advertised on the social network.
Jess from Chatswood, New South wales, was forced to call off her birthday bash after the party's details -advertised for everyone to see on Facebook - went viral, the report said, adding the Year 10 student originally intended to invite her grade only, but told her guests via the social networking site they could bring friends.
Within 24 hours, the party had more than 20,000 people listed as "attending", prompting the schoolgirl to send an unhappy message cancelling the party.
The invitation appears to have been hijacked by members of the notorious chat group Anonymous, resulting in it going viral worldwide.
Yesterday, the numbers continued to rise, with the number of guests reaching almost 150,000 about 10pm. And then the replies just kept on coming.
Today, a website looking to cash in on Jess's sudden popularity have made a T-shirt with her name and the date of her party. It costs USD 15.50.
On her invitation, Jess said she "didn't have enough time to invite everyone" and invited others to do it on her behalf: "(It's an) open house party as long as it doesn't get out of hand."
One guest posted on the party's wall: "That Corey Worthington kid has nothing on this", referring to the 500 guests who attended a now notorious house party in Melbourne after it was advertised on Facebook.
Jess's father, who asked that his name be withheld, said the invitation was "a complete hoax".
"My girl is an innocent victim," he said.
He said Jess had invited "a few friends" but did not know how to use the privacy settings on Facebook to stop strangers from viewing her party information.
"She was just anxious about whether anyone would show up to her birthday," he said.