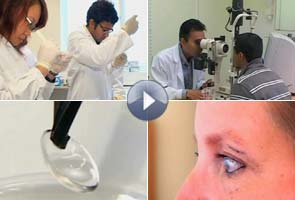 Linkoping, Sweden:
A ground-breaking procedure is being developed to correct a type of blindness which strikes 10 million people each year.
To overcome a worldwide shortage of human donors, scientists from Canada and Sweden are producing artificial corneas to replace those damaged by malnutrition, disease, or old age.
Healthy corneas are essential to good sight, but they're fragile and easily harmed by injury, or infection.
Until now vision has mostly been restored after a cornea transplantation. In the US for example 42,000 people a year get these transplants, but this relies on donors and they're not available in many countries.
An estimated 10 million people worldwide suffer with corneal blindness. Transplants from human donors also bring risk of rejection.
Scientists at Sweden's Linkoping University have tried out the procedure in a first-stage study of 10 patients.
Much larger studies are still essential before it can be used and that can take years, but the scientists here are pleased with the results so far and it is a step toward developing an alternative to standard corneal transplants.
Dr. May Griffith began developing biosynthetic corneas at Canada's University of Ottawa a decade ago. After years of research in the laboratory, she's now collaborating with the scientists at Linkoping.
The first task for Griffith and her colleagues is to create the cornea. This is made out of human collagen grown in yeast. It's then moulded into the shape of a cornea, like a contact lens.
Dr. Griffith explains "The cornea is the transparent window covering the eye and when it is healthy it is completely transparent to let light in to the back of the eye to the retina so that people can see."
She says the sight is impaired when something causes the cornea to become cloudy.
According to Griffith it can be created by many factors, "in children it is malnutrition, disease. In grown-ups simply aging would do this. In general human corneas which are donated after death are used to replace the damaged or diseased cornea".
But she says "there is a worldwide shortage of these corneas and that is why we have tried to develop a replacement to human donor corneas for transplantation."
Once the damaged tissue is removed from the patient's eye, the new biosynthetic cornea is implanted. Soon, cells that line a healthy cornea started growing in the collagen. The researchers look for tear production to be normalised and even report that corneal nerves grew back. They tested this by measuring sensitivity.
There was no rejection in any of the patients in the trial and an added bonus was that they didn't need immune-suppressing medication.
Two years after having the transplant, six of the ten -patients had significantly improved vision when they wore glasses.
When implanted with contact lenses that they hadn't previously been able tolerate, the patients saw as well as a similar group of patients who had received standard corneal transplants.
Another member of the Linkoping team Neil Lagali is encouraged by the results.
He says, "a number of patients were considered legally blind before the operation. And now these patients can, for example, drive a car."
Madeleine Fredriksson was born with a disease which caused her cornea to become cloudy. Her vision was very limited vision, but she managed to continue her secretarial job.
After the birth of her first child Fredriksson's vision decreased, suddenly and dramatically. Her sister, suffering from the same disease, has had four human cornea transplants with very limited success.
Fredriksson has been advised that she probably won't benefit from a human transplant and told to wait for the artificial corneas to become available. She now hopes to be a part of the next round of studies at Linkoping University.
Caring for her children is the main reason she wants to improve her vision.
Fredriksson says, "I have two small children so maybe after the operation I will be able to cut their nails and see allergic spots on their faces. Small things like this would make the day a lot easier if I did not have to ask for help."
Lagali is looking forward to the new trials. He says, "our goal is to supplement the supply of human donor corneas, not only in developed countries where there are waiting lists but also in developing countries as well where millions of people can go blind because of no access to transplant material."
The team at Linkoping University are hopeful the artificial corneas will become available to general patients within the next decade.