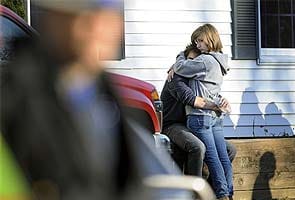 Newtown:
The principal and another staff member at an elementary school in Connecticut had rushed a gunman who forced his way inside, an act of courage that cost both of them their lives, a school superintendent said Saturday. In all, the gunman killed 26 people, 20 of them children, in the nation's second-deadliest school shooting.
The principal, Dawn Hochsprung, 47, of Sandy Hook Elementary in Newtown, was running at the gunman "in order to protect her students" when she was shot, Superintendent Janet Robinson, said. The school psychologist also tried to stop the gunman and was killed, Robinson told reporters in brief remarks outside the school.
"Teachers were really, really focused on saving their students," she added.
The chilling details about the opening moments of the blood bath in the bucolic community of Newtown came as investigators pressed for information about the gunman, Adam Lanza, 20. A police spokesman, Lt. J. Paul Vance, said investigators had produced "some very good evidence," but he provided no explanation for a massacre that unfolded with chilling speed as Lanza opened fire in one classroom and then another, turning a place where children were supposed to be safe - an elementary school with a sign out front that said, "Visitors Welcome" - into a national symbol of heartbreak and horror.
Vance said the victims' bodies had been taken from the school, Sandy Hook Elementary. He said the one survivor of the massacre, a woman who was shot and wounded at the school, would be "instrumental" in piecing together what had happened. He declined to describe the evidence that he said investigators - who continued to comb through the one-story school Saturday - had found.
Contradicting earlier reports, Robinson said Lanza's mother, Nancy Lanza, had never been a teacher or a substitute teacher at the school, though she did not specifically say whether she had had any other connection to the place.
Officials said the killing spree began early Friday at the house where Lanza had lived with his mother. There, he shot her in the face, making her his first victim, the authorities said. Then, leaving her dead after taking three guns that apparently belonged to her, he climbed into her car for the short drive to the school. Two of the guns were semiautomatic pistols. The other was a semiautomatic rifle.
Outfitted in combat gear, Lanza forced his way into the school, apparently defeating an intercom system that was supposed to keep people out during the day unless someone inside the school buzzed them in. This was contrary to earlier reports that he had been recognized and allowed to enter.
"He was not voluntarily let into the school at all," Vance said. "He forced his way in."
The lieutenant said that the authorities were "investigating the history of each and every weapon" that Lanza carried to the scene of the rampage and that the guns were found in the school, "in proximity" to where Adam Lanza shot himself to death.
A federal law enforcement official said the three guns recovered at the school - Glock and Sig Sauer pistols and an M4 .223-caliber Carbine - were bought legally by the gunman's mother and registered in her name. Other weapons were recovered from her home, the official said.
Even before the medical examiner released the identities of the victims, some were being mourned on the Internet. One was Ana Greene, the 6-year-old daughter of jazz saxophonist Jimmy Greene, who had moved to Newtown in July. Several jazz musicians express condolences on Facebook, and Greene posted a response in which he thanked them.
"As much as she's needed here and missed by her mother, brother and me," he wrote, "Ana beat us all to paradise." He added, "I love you, sweetie girl." (The Ottawa Citizen quoted a family member as saying that Greene's son, who also attended the school, was "fine.")
Dorothy Werden, 49, lives across the street from Christopher and Lynn McDonnell, who lost their daughter Grace, 6, on Friday. In an interview Saturday morning, she said that several other families who had lost children lived close by, and that the Lanza household was a block away.
Werden said she saw Grace getting on a bus Friday morning, as she did every day at 8:45. Shortly afterward, she received a call that there had been a lockdown at the school - something that happens periodically, she said, because there is a prison nearby. It was only when she saw police cars from out of town speed past her that she knew something was wrong.
"A lot of my friends in the neighbourhood lost their children," she said. The feeling in the once-quiet streets Saturday morning is "absolute, indescribable devastation," she added.
"The fact that the killer killed his mom a block away while we were getting our kids ready for school, it's too much for your brain to process. And the fact that I have to look across the street and see the McDonnells' house," she said, before trailing off.
The shooting affected a small community of close-knit families, Werden added. "The fact that it's contained in the Sandy Hook area," she said, "I don't think we'll recover from this for a very long time."
Like the rest of the nation, she said, local residents were asking one question: Why?
"Why did he have to go to the elementary school and kill all of those defenseless children?" Werden said.
Terrifying new details emerged Saturday about how teachers and school staff members scrambled to move children to safety as the massacre began. Maryann Jacob, a library clerk, said she initially herded students behind a bookcase against a wall "where they can't be seen." She said that spot had been chosen in practice drills for school lockdowns, but Friday, she had to move the pupils to a storage room "because we discovered one of our doors didn't lock."
Jacob said the storage room had crayons and paper that they tore up for the children to colour while they waited.
"They were asking what was going on," she said. "We said: 'We don't know. Our job is just to be quiet."'
But she said that she did know, because she had called the school office and learned that the unthinkable had happened just steps away.
Law enforcement officials said Adam Lanza had grown up in Newtown, and he was remembered by high school classmates as smart, introverted and nervous. They said he had gone out of his way not to attract attention when he was younger.
There was still no public explanation of what had motivated Lanza. FBI agents interviewed his brother, Ryan Lanza, in Hoboken, N.J. His father, Peter Lanza, who was divorced from his mother, was also questioned, an official said.
President Barack Obama, meanwhile, used his weekly radio and Internet address to mourn the victims, saying that "every parent in America has a heart heavy with hurt." Republicans, who normally prepare a reply to the president's address, did not do so this time.
The president's address was similar to a statement he read in the White House press room Friday, when he paused, more than once, and wiped his eyes.
"Our hearts are broken today," Obama said in his address. He mentioned other places where there had been mass shootings this year, including a mall in Oregon, a Sikh temple in Wisconsin and a movie theatre in Colorado, as well as "countless street corners in places like Chicago and Philadelphia."
"Any of these neighbourhoods could be our own," Obama said. "So we have to come together and take meaningful action to prevent more tragedies like this, regardless of the politics."
Vance said 18 children were pronounced dead at the school, and two others were taken to hospitals, where they were declared dead. All the adults killed at the school were pronounced dead there.
Agents from the Bureau of Alcohol, Tobacco, Firearms and Explosives were tracing all of the guns registered to Adam Lanza's mother and had completed the work on several, the official said, but would not provide additional details.
The agents were also visiting all the licensed federal firearms dealers in the area to determine if they might have records on any other weapons linked to the gunman or to his family, and they were canvassing sporting ranges in an effort to learn whether the gunman might have visited them for recreational use.
On Friday night, thousands of people flocked to local churches, attending candlelight vigils and seeking comfort in community.
"These 20 children were just beautiful, beautiful children," Monsignor Robert Weiss of St. Rose of Lima Roman Catholic Church told reporters. "These 20 children lit up this community better than all these Christmas lights we have."
© 2012, The New York Times News Service