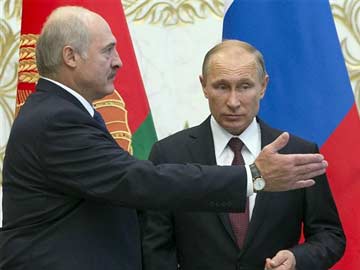 Minsk, Belarus:
An interior ministry official says 25 football fans in Belarus have been detained after a match where they sang chants insulting Russian President Vladimir Putin.
Ivan Kubrakov, head of law enforcement for the Belarusian interior ministry, told The Associated Press on Friday that 14 Ukrainians and 11 Belarusians were arrested following a match between the two countries.
Footage of Thursday's match in the city of Borisov, some 100 kilometers east of the capital Minsk, show fans yelling a chant that includes an unprintable insult to the Russian president. Mr Kubrakov did not specify whether the arrests were specifically related to those slogans, and said only that most had been detained for "minor hooliganism" and for being drunk.
Putin visited Belarus on Friday for a summit with other ex-Soviet leaders.