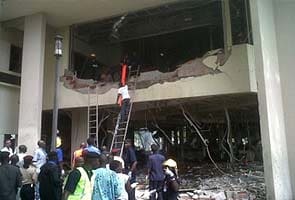 Abuja, Nigeria:
A car laden with explosives rammed through two gates and blew up at the United Nations' offices in Nigeria's capital on Friday, killing at least 16 people and shattering part of the concrete structure. A radical Muslim sect blamed for a series of assassinations and bombings in the country claimed responsibility for the attack.
The brazen attack, carried out as the four-story UN offices teemed with staff, comes as Africa's most populous nation faces the growing threat of both home-grown and international terrorism. The radical sect known locally as Boko Haram from northeast Nigeria have carried out attacks in the country's capital, though never on a foreign target.
UN deputy spokesman Farhan Haq said: "We do not have any confirmation as yet who was responsible." However, a spokesman for Boko Haram claimed the attack in a conversation with the BBC's Hausa language shortwave radio service, which is widely trusted and listened to throughout Nigeria's Muslim north. The sect, with reported links to al-Qaida, has made such claims before to the service.
Boko Haram, whose name means "Western education is sacrilege," wants to implement a strict version of Shariah law in the nation and is vehemently opposed to Western education and culture.
The attack on Friday morning mirrored others carried out recently by the group. Witnesses told The Associated Press that a sedan rammed through two separate gates at the UN compound as guards tried to stop the vehicle. The suicide bomber inside crashed the car into the main reception area and detonated the explosives, inflicting the most damage possible, a spokesman for the Nigerian National Emergency Management Agency said.
"I saw scattered bodies," said Michael Ofilaje, a UNICEF worker at the building, which he said shook with the explosion. "Many people are dead."
The Nigerian Red Cross reported at least 16 people died in the attack, with at least 11 others injured, said Umar Mairiga, the organization's disaster management director. Nigerian Health Minister Mohammad Ali Pate made a public appeal for blood donation on the widely listened-to BBC Hausa language service, saying there were at least 60 injured people at the National Hospital in Abuja.
UN Secretary-General Ban Ki-moon called it "an assault on those who devote their lives to helping others."
The buildings, known as UN House, had offices for about 400 employees working for 26 UN humanitarian and development agencies. Authorities were still trying to account for everyone in the building at the time of the blast.
"We condemn this terrible act, utterly," secretary-general Ban told reporters at UN headquarters. "We do not yet have precise casualty figures but they are likely to be considerable. A number of people are dead; many more are wounded."
The building, located in the same neighbourhood as the US embassy and other diplomatic posts in Abuja, houses offices of a number of UN agencies including the UN Development Program, UNICEF and the UN Population Fund.
The attack was the most deadly on the United Nations since 17 UN civilian staff members were killed along with dozens of others in two terrorist car bombings that targeted UN and other premises in Algiers on December 11, 2007. It came just days after the UN marked the eighth anniversary of the August 19, 2003 bombing of UN headquarters in Baghdad that killed 15 UN staff including top envoy Sergio Vieira de Mello and seven others.
The explosion punched a huge hole in the building. Workers brought three large cranes to the site within hours of the attack, trying to pull away the concrete and rubble to find survivors. Others at the site stood around, stunned, as medical workers began carrying out what appeared to be the dead.
"This is getting out of hand," said a UN staffer who identified himself as Bodunrin. "If they can get into the UN House, they can reach anywhere."
Ali Tikko, who was in a building 100 yards (meters) from the site of the blast when it occurred said, "I heard one big boom."
"I see a number of people lying on the floor - at least four or five. I cannot see if they are dead. There are a lot of security around," Mr Tikko said by telephone.
Local police spokesman Jimoh Moshood said police are investigating. In a statement, Nigerian President Goodluck Jonathan's office called the attack "barbaric, senseless and cowardly." The statement also promised to increase security in the nation's capital.
"President Jonathan reaffirms the federal government's total commitment to vigorously combat the incursion of all forms of terrorism into Nigeria, and wishes to reassure all Nigerians and the international community that his administration will spare no effort to bring the perpetrators to justice," the statement read.
The secretary-general said he was sending Deputy Secretary-General Asha-Rose Migiro and UN Security Chief Gregory Starr to Abuja immediately to meet with Nigerian authorities and to "respond to this emergency."
Nigeria, a nation of 150 million, is split between a largely Christian south and Muslim north. In recent months, the country has faced an increasing threat from Boko Haram. The sect has carried out assassinations and bombings, including the June car bombing in Abuja of the national headquarters of Nigeria's federal police that killed at least two people.
Earlier this month, the commander for US military operations in Africa said Boko Haram may be trying to link with two al-Qaida-linked groups in other African countries to mount joint attacks in Nigeria.
General Carter Ham told AP on August 17 during a visit to Nigeria that "multiple sources" indicate Boko Haram made contacts with al-Qaida in the Islamic Maghreb, which operates in northwest Africa, and with al-Shabab in Somalia.
"I think it would be the most dangerous thing to happen not only to the Africans, but to us as well," Carter said.
Get Breaking news, live coverage, and Latest News from India and around the world on NDTV.com. Catch all the Live TV action on NDTV 24x7 and NDTV India. Like us on Facebook or follow us on Twitter and Instagram for latest news and live news updates.