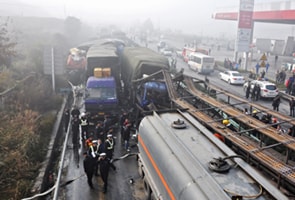 Beijing:
At least seven people were killed and 15 injured when over 100 vehicles rammed into the back of each other in a foggy on Monday morning on an expressway in China, officials said.
The incident occurred when a truck crashed into a petrol station in Zunyi County of southwest China's Guizhou Province at about 8 am. At least, 100 other vehicles then crashed into the rear of each other, Xinhua reported quoting local firefighters.
Six people died on the spot, while one died in hospital.
At around 10 am, visibility on the expressway was less than 50 meters due to fog. Traffic banked up to about 20 km after the accident.