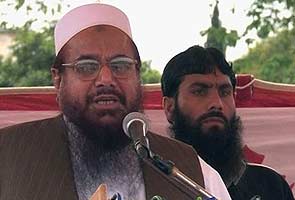 New Delhi:
Jamaat ud Dawa chief Hafiz Saeed tops the list of India's most-wanted men for masterminding the 26/11 Mumbai attacks of 2008. Today, Pakistani-American David Coleman Headley, who has pleaded guilty to laying the ground work for the Mumbai terror attacks, testified in a US court, exposing the role of Pakistan's Inter-Services Intelligence (ISI) and said he had been "motivated" by Hafiz Saeed.
But 34 months after 26/11, Saeed still walks a free man. He was briefly placed under house arrest after the Mumbai attacks, but the Lahore High Court released him saying there was no evidence to link the JuD, a charitable organisation on paper, to the trail of terror.
A WikiLeaks cable accessed exclusively by NDTV reveals that less than 20 days after 26/11, the US wanted to question Saeed and had made a request to the Chief Minister of Punjab (Pakistan) Shahbaz Sharif.
Bryan Hunt, Principal Officer at the US Consulate in Lahore said in the cable sent to Washington on December 13, 2008, that Sharif had said he would look into the US request for access to Saeed and promised to respond soon.
Sharif, the cable said, had also welcomed the involvement of the US in "calming the tension between Pakistan and India after the Mumbai attacks," and said that "in order to prosecute the JuD leaders currently in three-month detention...he will require evidence implicating their involvement in the Mumbai attacks. He noted that proof that originates with the U.S. would have greater credibility than proof produced by India. Any information that he can use in the courts would be very helpful."
(Read: Pakistan cable on Punjab Chief Minister Shahbaz Sharif continuing his crackdown on JuD)
Hunt said Sharif displayed an "unwavering attitude" on cracking down on the JuD.
"Punjab Chief Minister Shahbaz Sharif told Principal Officer (PO) that he intended to completely shut down Jamaat ud Dawa (JUD)...He related that he will preside over a meeting with provincial officials to formulate a plan to take over the hospitals and schools previously run by JuD. He expected that taking charge of the JuD's three hospitals in Punjab would occur easily. "We will use trained doctors to charm the patients with long beards and caps," he joked. While he expected to install trained government teachers in the JuD schools, which number in the hundreds, he admitted that assuming control of the schools will pose a greater challenge. Moreover, asked how he will deal with the extensive madrassah network, he had no substantive response," the cable said.
Saeed, however, was released from house arrest some months later on orders of the Lahore High Court which cited lack of evidence. The Punjab government challenged his release in the Pakistan Supreme Court.
On July 14, 2009, however, the province withdrew its appeal. A cable sent by then US Ambassador to Pakistan Anne Patterson, expressed surprise at the move and noted the Punjab government had cited "a lack of evidence and cooperation from the federal government as the reason for their withdrawal."
(Read: Pakistan cable on Punjab govt withdrawing its appeal against Hafiz Saeed's release)

Patterson described Saeed as "the poster child for India's complaints against Pakistan" and said that "even if Saeed is technically not roaming the streets, the GOP's (Government of Pakistan's) inability to win the legal case against him is embarrassing."
She also cautioned that "Given the JuD leader's popularity, the GOP will have to be careful to avoid the appearance of extra-judicial moves against Saeed."
Follow NDTV for latest election news and live coverage of assembly elections 2019 in Maharashtra and Haryana.
Subscribe to our YouTube channel, like us on Facebook or follow us on Twitter and Instagram for latest news and live news updates.