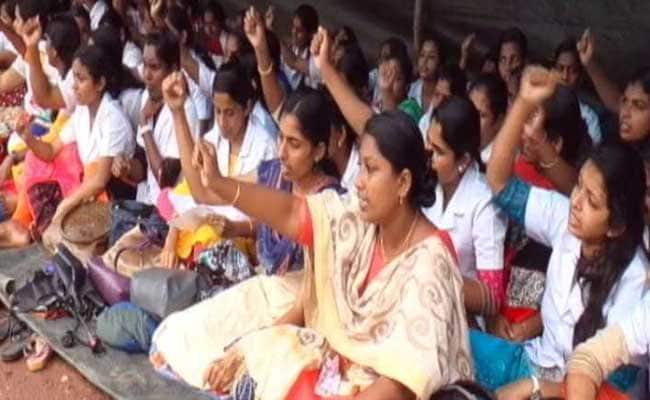 Thiruvananthapuram:
In a relief to striking nurses, the Kerala government on Thursday said it would implement the Supreme Court directive of Rs 20,000 minimum salary to nurses in the state.
A decision in this regard was taken at a meeting of the representatives of nurses and private hospital managements convened by Chief Minister Pinarayi Vijayan.
It was agreed at the meeting to implement the minimum pay of Rs 20,000 to nurses working in private hospitals with less than 50 beds as recommended by a Committee in the light of a supreme court order in this regard, Mr Vijayan told reporters.
Around 80,000 nurses in the private sector are expected to benefit from the decision.
United Nurses Association and Indian Nurses Association, which spearheaded the stir, called off their month-long agitation.
"We congratulate the government for settling the strike," INA leaders said.
With regard to the salary and allowances of hospitals with more than 50 beds, a special committee would be formed to fix their wages. It has been asked to submit their report within one month, he said.
Another major demand of nurses' association on training period and the stipend during the period would also be decided by the committee, the Chief Minister said.
The government would place the Committee report in the Minimum Wages Committee as the state's recommendation, he said.
Mr Vijayan said the meeting also wanted managements not to take any action against the nurses who went on strike.
The meeting appealed to all to maintain a cordial and co-operative atmosphere in the hospitals, the chief minister added.
The nurses of the private hospital began an indefinite strike state-wide on June 28 after the hospital managements rejected their pay revision demand.