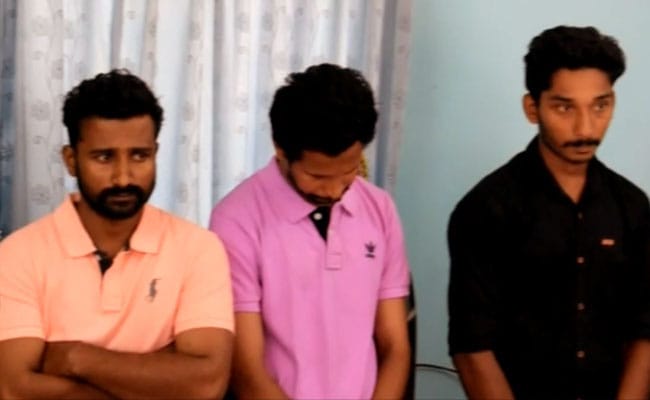 Highlights
Three men had allegedly attacked a CPM worker on Thursday
Cops are searching for more suspects thought to be involved in the attack
RSS, CPM have blamed each other for rise in political violence In Kerala
Thiruvananthapuram:
Three men have been arrested in Thiruvananthapuram following the attack on a CPM worker. LS Shaju, who had been set upon by a group of men armed with sharp weapons, on December 28, is still in hospital with serious head injury. Police say the arrested men belong to the Rashtriya Swayamsevak Sangh, the ideological mentor of the BJP and they suspect it is a case of revenge.
Of the three men arrested, one is related to an RSS worker, Rajesh E, who was killed in July last year in Thiruvananthapuram, the police sources said. Mr Shaju was attacked in the same area. A hunt is on for more men who had allegedly been involved in the attack.
There has been a huge spike in violence in Kannur, one of the most politically volatile areas of Kerala, since the CPM-led Left Democratic Front came to power. Most of the tit-for-tat clashes have taken place between the workers of the CPM and the BJP-RSS.
According to the police, a day after the attack on Mr Shaju, another CPM activist was attacked, allegedly by a group of RSS men, in Kannur in broad daylight.
Last evening, an RSS activist was attacked with sharp weapons by unidentified men. Hours later, in a separate incident, five BJP workers were allegedly attacked just 5 km from the spot.
The RSS has demanded a judicial probe into political killings, alleging that there is a breakdown of law and order in Kerala. The state's ruling CPM has accused the BJP-RSS of deliberately creating instability to disrupt the CPM government of Kerala.
In October, the BJP held a statewide march, the Jan Raksha Yatra, where party chief Amit Shah, in his address, held state chief minister Pinarayi Vijayan "directly responsible for all political murders in Kerala".