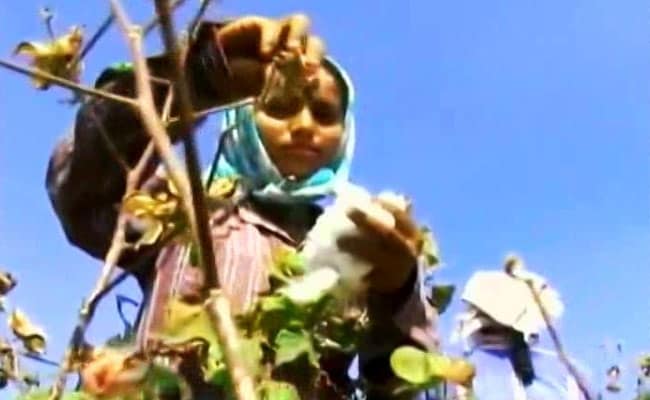 Warangal:
Access to education is still a luxury for young girls in Telangana's Warangal district who are dropping out of school to work on farms. When the debt-ridden farmer can't afford to pay to farm labour, the girl child is the first casualty.
The Warangal district, which is reeling under an agrarian crisis, has seen at least 21 farmer suicides in the last two weeks in the district and several deaths due to poverty. In the absence of any source of income, the families, including young girls, are forced to work on farms.
After Divya's father died four years ago, her mother Sunitha worked hard so that her daughter could continue school. However, after Sunitha's epileptic seizures, she couldn't go to work.
''She would fall suddenly. So I have to stay at home and take care of her," said Divya. She also fills in for her mother as a farm worker.
Divya aspired to be a nurse, but she couldn't pay Rs 1,000 in time to enroll for the course.
''I wanted to be a teacher but that couldn't happen... Then I tried to become a nurse, which is a shorter course, so that I could help my mother... but even that isn't possible now,'' Divya added.
Her friend Mounica had to quit school after her father fell off a tractor and suffered serious injuries. Mounica wanted to set up her beauty parlour to help the family. But after the accident, her life took a different turn.
"I have lost hope. I don't think it will ever happen," she said.
Now both Divya and Mounica pick cotton from 9 in the morning till sunset. At the end of the day, they take home a paltry sum of Rs 200, which isn't enough to buy cereals, pulses and vegetables.
A short distance away Mamtha has been employed on a field to spray herbicide on the crop. The Class 9 students knows about Prime Minister Narendra Modi's 'Beti Padao, Beti Bachao' campaign. She is worried she would be scolded by her teacher for skipping school, but she is helpless. She has to work on the field to provide for her family's dinner.
Her mother Rajitha said, "It's not that children want to do this but we don't have a choice. If one person works on the field we get Rs 200. And we need that money to survive."
It is not uncommon to find children as young as 10 picking cotton in the fields. Chandrakala, who employs children to pick cotton, said, "Small children work on farms because they don't have any other earning avenue.''
While her sons are still in school, her daughter Lavanya had to drop out to help her on the field.