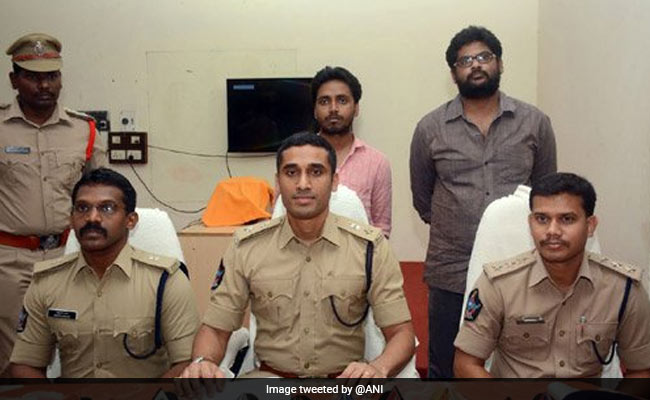 Hyderabad:
The Andhra Pradesh police on Saturday claimed to have foiled an alleged attempt by the Maoists to kill University of Hyderabad Vice-Chancellor Podile Appa Rao to avenge the death of Dalit student Rohith Vemula two years ago.
Police in East Godavari district of neighbouring Andhra Pradesh on Friday arrested two former students of the university - Ankala Prudvi Raj, 27, and Chandan Kumar Mishra, 28, from Pichukalapadu junction on Bhadrachalam-Charla Road late on Friday, a police officer said on Saturday.
According to police, they were allegedly deployed by the banned Communist Party of India-Maoist to eliminate the Vice Chancellor to avenge the death of research scholar Rohith Vemula.
The Dalit student had committed suicide in his hostel room on the campus on January 17, 2016 in protest against the discrimination of Dalits. The incident triggered massive protest by the students, who blamed the Vice Chancellor along with two central ministers for the suicide. The incident had also sparked nation-wide uproar.
East Godavari district Superintendent of Police Vishal Gunni told reporters that Prudviraj, a native of Krishna district and Mishra of Howrah in West Bengal were picked up while they were returning from Bastar forests after meeting Yapa Narayana alias Haribhushan, the secretary of Telangana State Committee of CPI-Maoist.
"On interrogation, it was revealed that they were planning to kill the Vice Chancellor. The Maoist party thought assassination of the VC would help them get some recruitments," he said.
Police claimed that Prudviraj was arrested in the past after he was caught escorting a woman believed to be the wife of top Maoist leader Pulluri Prasada Rao alias Chandranna. He was jailed for some time and was released on bail. He was also a member of Telangana Vidyarthi Vedika, a students' body.
Mishra, who joined the Hyderabad Central University in 2013 for a post-graduate course, was a member of the Telangana Praja Front and SFI.
Both the accused were produced before a court, which sent them to judicial custody.