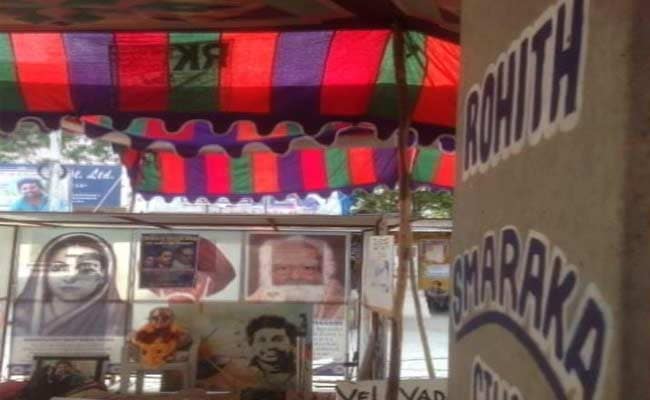 Highlights
Rohith Vemula memorial at Hyderabad Central University may be removed
Memorial put up by students days after research scholar's suicide
Vice-Chancellor: Will give notice before removing 'illegal structures'
Hyderabad:
In the middle of the campus, not far from the hostel where he hanged himself, a cement structure and a tent with his photographs and written tributes to Rohith Vemula is treated by students as a memorial for the 26-year-old.
Now, NDTV has accessed a note where university officials have resolved to remove "illegal" structures - "there should be no busts or memorial", the note says, indicating plans to dissemble what has been created in memory of the PhD student.
If that happens, the university runs the enormous risk of exacerbating the tension that has flooded the campus since Mr Vemula's suicide in January. A section of students and teachers have been confronting the faculty repeatedly for alleged inaction when Mr Vemula complained about caste discrimination for Dalits like him.
Last week, more than 20 students were arrested after allegedly vandalizing the office of Vice Chancellor Appa Rao; the manner in which they were picked up by the police and kept in jail for several days instigated large protests that once again paralyzed classes.
"If they try to remove the memorial, there will be repercussions across the country," said Sunkanna, a close friend of Mr Vemula.
"The illegal structures must go, but we are not pushing it right now. We will first issue notices and then remove them," the Vice Chancellor confirmed to NDTV today. He also said that he will extend till the end of April a ban on outsiders introduced last week to stop the entry of Kanhaiya Kumar, the student who was arrested on sedition charges in Delhi, and was meant to meet Mr Vemula's friends.
The memorial tent for Mr Vemula is dubbed "Veli Wada" - a place of exile outside a village. It is where he spent his last few days after he was forbidden from using his hostel as penalty for allegedly assaulting members of a rival student group, the ABVP, which is affiliated to the BJP.