Chennai:
Highlights
After days of peaceful protest, police cars set on fire
Jallikattu campaign wants the bull-taming sport to be legal
'Anti-national elements', not students, causing violence: Police
A row of charred police cars with flames still licking their chassis, a helicopter circling above, boats treading waves with black flags - by noon, it was obvious that the coda of the peaceful mass demonstration for Jallikattu, the bull-taming sport, was robbed off the spirit of youthful fervor and integrity that won it so much admiration.
The violence that erupted at Chennai's Marina Beach today
, the police stressed, was not the work of students, who were the engine of the powerful week-long movement. "Anti-national elements," the cops said, had crept into the area, determined to cause some wreckage as attempts are made to clear the area for Republic Day arrangements.
Several public personalities, however, blamed the police and the government for failing to engage with students, who, last Tuesday, assembled at the shoreline and then put out calls for support on social media. The response was immediate and evocative: lawyers, IT professionals, parents with young children in tow all gathered to proclaim that those who claim Jallikattu tortures bulls do not understand how it's conducted or its cultural significance, and that a ban on the sport levied in 2014 by the Supreme Court must be set aside.
"Young blood is boiling. The youngsters (on Marina Beach) are educated crowd, not an uneducated crowd. We need to speak to them and have a dialogue," said actor-politician Khushboo of the Congress.
Superstar Kamal Haasan
, who has expressed ardent support for the movement, tweeted, "This is a mistake. Aggressive police action on students' passive resistance will not bear good results." He also urged the students to keep calm.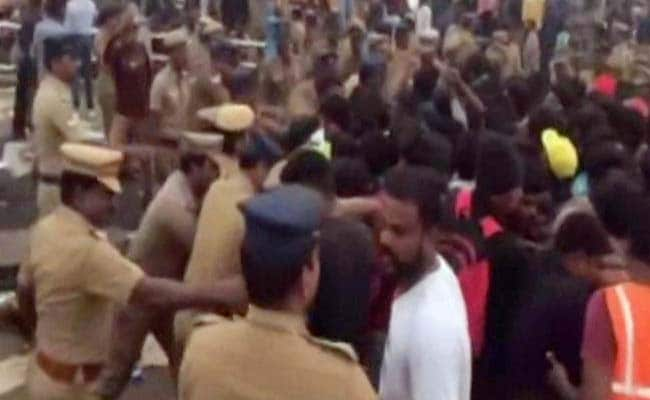 This morning, the police asked the Marina Beach gathering to disband because the Tamil Nadu government used an executive order on the weekend to allow Jallikattu to resume. The students said they wanted proof that a new law would be brought in that would ensure Jallikattu could withstand legal challenges by animal rights groups like PETA. Nearly 5,000 students were evicted, but anger began building over reports that the
police had used lathis or batons on some of them
. The police said it withstood stones and slippers being hurled at its personnel. To resist being moved out, some students walked into the water; others formed a human chain.
Political leaders were not allowed to participate in the Marina Beach campaign - students asked them to leave. Government sources who asked not to be named because of the sensitivity of the matter said it was hard to identify the leaders of such a broad-based movement.
Balaji, a popular entertainer and Radio Jockey
, told students that it is time to go home, tweeting that today's behaviour threatened to undo what had been accomplished. "The police have been very supportive, helpful. (It's) time we understand and behave accordingly. The ordinance and thepromise for a permanent solution is itself a huge victory for us. So you need to withdraw," he said.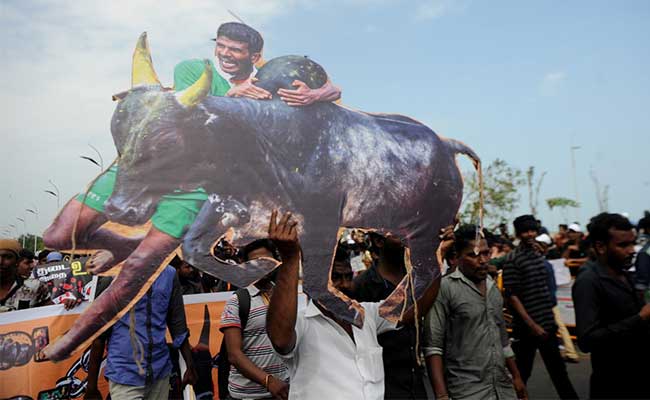 Jallikattu is performed with the 4-day harvest festival of Pongal. Animal rights activists say that bulls are abused, taunted with chillies in their eyes, and given fodder laced with alcohol ahead of their bouts in open fields with young men, who compete to remain mounted on a bull for at least three jumps.
But the lakhs of people who support Jallikattu say incidents of bulls being tortured are anomalies, and must be punished, but that a wholesale ban on the sport is unacceptable.
After the Supreme Court sided with animal activists in 2014, the centre, last year, allowed the sport to resume, a move that has been challenged in the top court which has agreed that it will not deliver its verdict for a week to ensure it does not provoke an outburst in response.