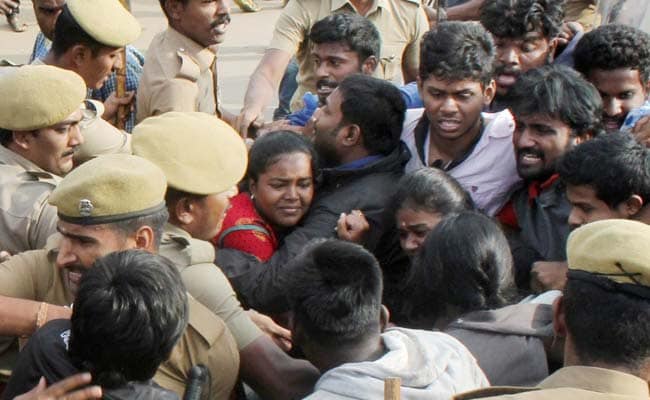 Highlights
RJ Balaji is among prominent voices in favour of Jallikattu
Urging youngsters to not resort to stone pelting, violence: RJ Balaji
Promise for solution is huge victory, we need to withdraw, he says
Chennai:
As protests in support of bull-taming festival Jallikattu turned violent in parts of Tamil Nadu today, especially at the epicenter Marina Beach in Chennai, a strong appeal to protesters came from well-known personalities like film star Kamal Haasan and RJ Balaji, a popular radio jockey.
In tweets, Kamal Haasan appealed for calm and appeared to assure protesters that "the highest office in the country" would support them.
None can take away your rights. Pls. stay calm. The highest office in the country is watching & will talk in your favour soon. Maintain calm

Kamal Haasan (@ikamalhaasan) January 23, 2017

Thousands of protesters refused to leave as a large number of policemen arrived at the Marina Beach at 5 am with a copy of the ordinance or special order passed by the Tamil Nadu government to bypass a Supreme Court ban on Jallikattu. The ordinance has to be approved by the state assembly within six months to become law.
As the protesters were removed physically from the protest site, there was stone-throwing, which led to the police using tear gas and batons. Visuals showed protesters being beaten.
Protesters alleged that some of them were injured and pregnant women were also manhandled
.
Kamal Haasan criticised police action on protesters, saying students had been calmly waiting for the decision of the Tamil Nadu assembly, which has to sign off on the ordinance.
RJ Balaji, a radio personality known for his public service and large fan following, tweeted a video in which he said in Tamil: "Please go home, urging all youngsters to leave Marina and not resort to stone pelting and violence."
Balaji said the police had been supportive and helpful. "Time we understand and behave accordingly. The ordinance and the promise for a permanent solution is itself a huge victory for us. So you need to withdraw," he urged.
Last week, Balaji came out in strong support of Jallikattu, a tradition that has been linked by many to Tamil pride.
As protesters started gathering at the Marina Beach last Tuesday, the radio jockey also joined them and said everyone was together and united in their demand for the return of Jallikattu.
He had said that it was a few people protesting peacefully in parts of Tamil Nadu, "not drunk men going on the rampage but youth who know what they want."