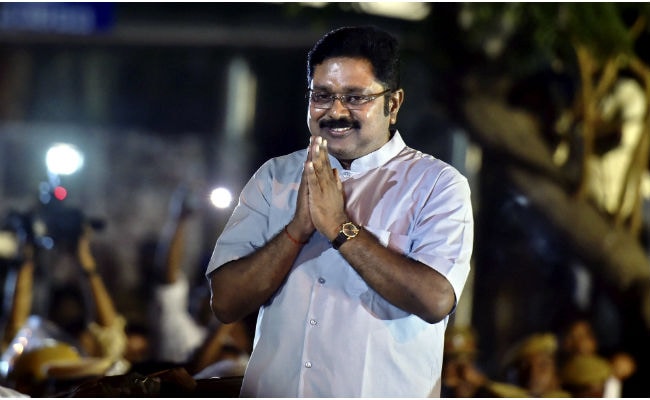 Chennai:
TTV Dhinakaran, who pulled off a huge victory in Chennai's RK Nagar - the assembly seat represented by former Chief Minister J Jayalalithaa till her death last year -- brushed off the accusations of the AIADMK and the DMK. Having a "tacit understanding" with the opposition DMK - which is the charge of the ruling AIADMK - was not possible, he said. The sidelined number 2 of AIADMK - who laid claim to inherit Jayalaithaa's legacy -- had contested as an Independent candidate and beat the party candidate E Madhusudanan by a margin of more than 40,000 votes.
Mr Dhinakaran said it is possible that he received some votes from DMK supporters. "But a DMK worker will not vote for someone else even if their party leader asks them to do so," he was quoted as saying by news agency Press Trust of India.
As for the DMK, the party, he said, was "overconfident" and made a mistake in their math.
After the victory of Mr Dhinakaran, the shocked AIADMK and the DMK have blamed each other.
The DMK - whose candidate had lost his deposit after failing to get one-sixth of the votes - has accused state ministers of helping Mr Dhinakaran "distribute money" among voters. Questioning how Mr Dhinakaran could have polled more votes than Ms Jayalalithaa, a party spokesperson said, "they have pumped in 250 crores within six months".
The DMK, Mr Dhinakaran said, was "overconfident" following its performance in the assembly polls last year when it secured over 55,000 votes in the constituency. The election was won by J Jayalalithaa, whose death in December last year made the by-elections necessary.
The AIADMK, which is now being led by Chief Minister E Palaniswami and his deputy O Panneerselvam, blamed the DMK's "tacit understanding" with Mr Dhinakaran. To stop a possible exodus from their side to Mr Dhinakaran's, the party has also expelled six senior functionaries, calling them "betrayers" for supporting him.
Yesterday, after the leads showed he was heading for victory, he said his faction was the "true AIADMK" and "E Palaniswami's government will fall in three months". His supporters are already expecting that a large number of Mr Palaniswami's followers will change camp in the coming days.
Regarding the allegation of cash for votes by leaders of the ruling AIADMK, he said it was they who gave cash to the voters. The Election Commission, he said, should probe both complaints.