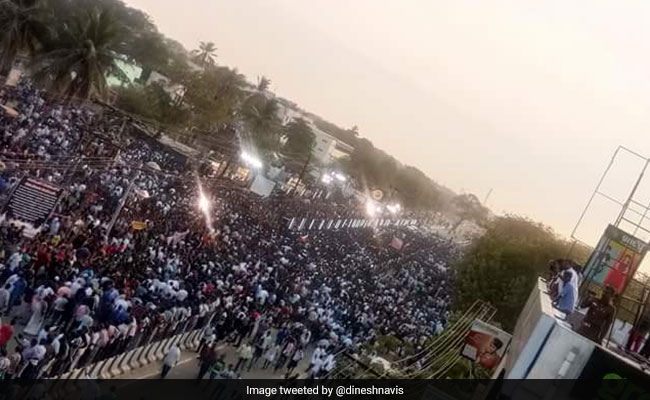 Chennai:
Around 15,000 people gathered for a protest meeting on Saturday night demanding the closure of a copper smelting plant in the Tuticorin district of Tamil Nadu. Alleging pollution of air, water and soil, the protesters say the plant should not be allowed to expand its operations.
R Shanthi, a young mother, said, "The factory has caused enough damage to the environment. It's proven in court. The government should not renew its licence after the 25 year period."
In March 2013, hundreds of people complained of breathing difficulty, nausea and throat infection following an alleged gas leak from the Sterlite Industries plant. Though the plant was ordered to shut down following allegations that it was violating pollution control norms, the National Green Tribunal had ultimately allowed the plant to be reopened. The same year, in another case spearheaded by MDMK party Chief Vaiko, the Supreme Court had fined the plant Rs 100 crore for the pollution over the years. However, at that time Sterlite, run by the Vedanta group, had claimed it adheres to pollution control norms.
On Sunday, shops in the industrial coastal town remained shut following a call given by activists. The protest was also largely driven by social media campaigns. The large gathering, many say, brought back memories of the 2017 Jallikattu uprising in Chennai in which close to 50,000 people had congregated along the Marina at one point demanding the lifting of the ban the bull-taming sport which paved way for its revival. A senior police officer said, "Around 15,000 people had attended the meet."
The copper major which began operations in 1996, employs around a thousand people on its rolls and another two thousand on contract and provides indirect employment opportunity for around 25,000.
However, some say it's not right to single out Sterlite when Tuticorin has a number of factories contributing to the pollution. Richard Jonathan, an entrepreneur, posted on his Facebook page: "The cause of this environmental mess is definitely not a single factory but a cluster of factories and businesses which rely on port, excessive trucks and heavy vehicles movements in and around, very huge labour population whose livelihood depend on these companies... Every new day new power plant is coming up in Tuticorin. No one is talking about that, nobody is bothered about the messed up social conditions and civic failures the town is going through. Why single out Sterlite?"