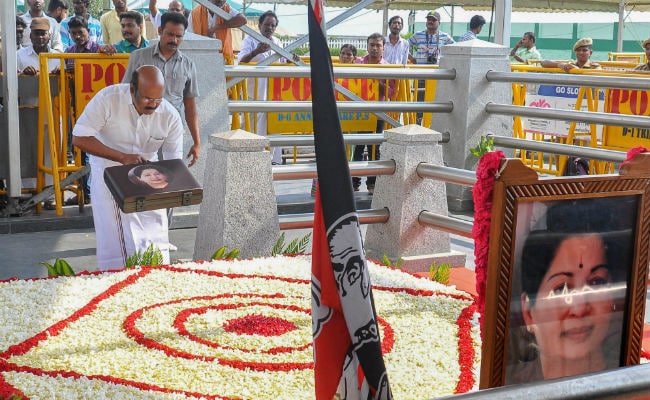 Chennai:
Finance Minister D Jayakumar and Leader of the Opposition M K Stalin on Tuesday engaged in heated arguments in the Assembly over placing the budget on former Chief Minister J Jayalalithaa's memorial before it was tabled in the House.
Amid noisy scenes, some remarks by Mr Jayakumar which were strongly opposed by DMK legislators and counter view of Stalin were all expunged by Speaker P Dhanapal after intervention of leader of the House KA Sengottaiyan.
Mr Stalin said placing the Budget on the memorial of Jayalalithaa was against norms and taking it outside the Secretariat before it was tabled in the Assembly went against House tradition.
To this, Mr Jayakumar said he had taken the Budget to the memorial only to seek the blessings of his late leader. There would have been a breach of norms if the budget contents had got leaked, he said.
Only in such a scenario, which did not happen, would there have been a violation of the oaths taken by him as a Minister and also Constitutional norms, he said.
A remark Mr Jayakumar made against former Chief Minister O Panneerselvam, who was present in the House, was opposed by followers of the rebel leader, including former Minister K Pandiarajan.
Mr Stalin maintained there was nothing wrong in seeking the late leader's blessings, but asked if it was proper to take the document outside the House. He said he had urged Governor CH Vidyasagar Rao to take action against the Minister.
The argument and counter arguments started during the discussion on the 2017-18 Budget when DMK member Mr Udayasuriyan made a reference to past Finance Ministers bringing budgets to the House.
A verbal duel ensued when Mr Jayakumar said DMK had not taken efforts to get Tamil Nadu its due share of tax revenue from the union government when the party had been part of several regimes at the Centre.
Mr Stalin listed several infrastructure initiatives like the MetroRail, which he said had materialised due to his party's efforts.