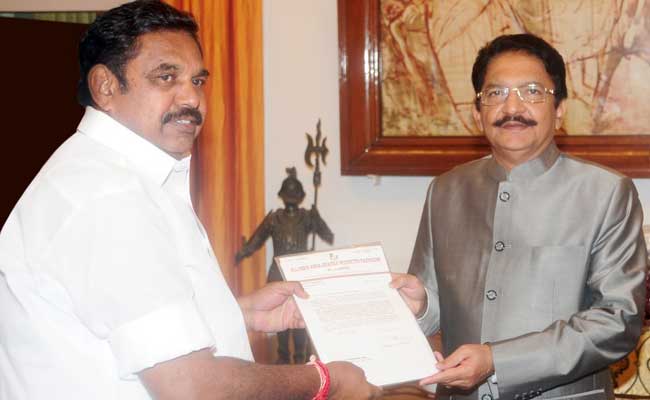 Highlights
Sasikala, found guilty of corruption, now out of the running
Her loyalist, E Palanisamy, to meet Governor and ask for trust vote
O Panneerselvam, acting Chief Minister, wants to keep the job
Chennai:
With
VK Sasikala convicted for corruption
on Tuesday morning, Tamil Nadu Governor C Vidyasagar Rao must now move urgently to end the political crisis in the state over who should be Chief Minister, said constitutional experts on Tuesday.
The Supreme Court has sentenced Ms Sasikala to jail for four years; the verdict also bars her from running for public office for 10 years, pulling the plug on her plans to become Chief Minister. Ahead of presenting herself in Bengaluru to be jailed (her lawyers say they are considering whether to ask the top court to review its decision),
Ms Sasikala has ensured that a loyalist, minister E Palanisamy, was elected the leader of her party
, the AIADMK. He met with the Governor earlier this evening to ask for the right to take a trust vote.
He is up against O Panneerselvam - "OPS" - who is handling Tamil Nadu as acting Chief Minister, but now wants the gig for good. His
delegates met the governor at 7 pm.
Attorney General Mukul Rohatgi, who is the centre's top lawyer, told NDTV on Tuesday that if the Governor believes there are rival claims from within the same party, he should ask for a composite floor test - which means that all 234 legislators in Tamil Nadu would have to sign their names and vote for either of the candidates - OPS or Mr Palanisamy.
The competition for the state's top job erupted a week ago, the delayed result of the death of J Jayalalithaa in December while she was still Chief Minister, and an unlikely revolt by the man who was so loyal to her that he sobbed openly on two occasions when filling in for her while she confronted grave charges of venality.
Last Tuesday, OPS, who is 67, announced that unlike on those occasions, he would not conform to party orders to enable the promotion of Ms Sasikala, who has never contested an election, as Chief Minister. This pushback, he said, was urged by "the spirit of
Amma
(Jayalalithaa)" who appeared before him. On Tuesday, he was expelled from the AIADMK, which means the party is placed to break, even as he wrote to leaders urging them to stay together.
Constitutional experts say that given that Ms Sasikala's faction has all but 11 state legislators, the Governor must ask Mr Palanisamy, as its leader, to prove his majority in the legislature, conferring on him the invitation that Ms Sasikala had sought for herself. Though OPS, who said he resigned under pressure, has also put in a formal request for a trust vote, experts say his resignation letter cannot be withdrawn.
Ms Sasikala and OPS made their petitions six days ago. The Governor sought time - reportedly because he was keen to take his cue from the Supreme Court - and the delay provided enough of a window for OPS to keep chipping away at his rival's bloc of legislators, assimilated in a luxury resort named Golden Bay for several nights to prevent defection. He now has 11 MLAs or state legislators on his side.
Constitutional expert PP Rao told NDTV that the assembly must first elect what the majority will be- that is, which party is the biggest. Then, the leader of that faction, having won the vote, should be made Chief Minister. To facilitate this, he said, it is OPS, as interim Chief Minister, who must call the session of all 234 legislators.