Rameswaram:
Highlights
The power bill is Rs 10,000, a village education committee official said
Tamil Nadu government was to bear the power expense, officials said
School has not paid electricity bill for two years
A small school in Tamil Nadu that gave India
one of its brightest minds
will be plunged into darkness in five days. It was in the corridors and classrooms of this school that former President Dr APJ Abdul Kalam received education in his formative years.
Mandapam Panchayat Union Middle School in
Rameswaram
, 560 kilometres from state capital Chennai, has not paid the power bill for the past two years, local electricity board officials said.
The power bill is Rs 10,000, a village education committee official said. The electricity board has decided to give five more days before it cuts power to the school, officials said.
The electricity bill, which is less than the cost of a standard smartphone, is seen as quite burdensome for the school with limited means.
If electricity to the school is snapped in summer -- today's weather forecast is around 32 degree Celsius in Rameswaram -- students will have to bear the intense heat as they turn the pages of their textbooks and try to concentrate in the oven-like classrooms.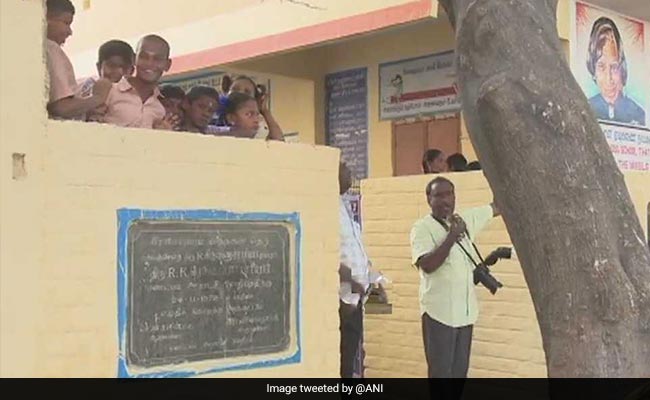 The village education committee told news agency ANI that they stopped paying the electricity bill after the Tamil Nadu government assured them that it would take care of the electricity expenses.
"Earlier, we used to pay the bill but stopped doing that after state government took up responsibility for it. Now pending bills are more than Rs 10,000," the village education committee president said.
"We contacted the electricity board and they have agreed to provide electricity only for five more days," he said.
After Dr Kalam was elected the presidential candidate, he had visited the school and met with the students, sharing stories and laughter as he walked about his old campus.
Get Breaking news, live coverage, and Latest News from India and around the world on NDTV.com. Catch all the Live TV action on NDTV 24x7 and NDTV India. Like us on Facebook or follow us on Twitter and Instagram for latest news and live news updates.