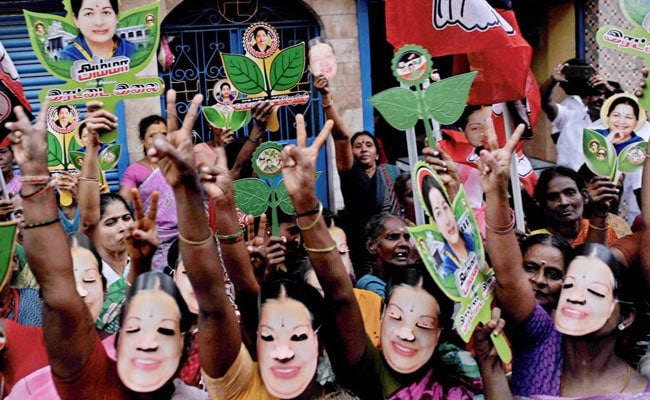 Chennai:
The
by-election for Chennai's RK Nagar assembly seat
, which fell vacant after the death of former Tamil Nadu Chief Minister J Jayalalithaa last December, was held today. The AIADMK says it is confident of a win, which will help establish that Chief Minister E Palaniswami and his team are in control. The AIADMK have fielded senior leader E Madhusudanan, who has held the seat before. He contested against TTV Dhinakaran and DMK's Marudhu Ganesh. DMK working president MK Stalin too, said that he was certain that his party would emerge victorious in the RK Nagar bypoll. The campaigning for the RK Nagar bypoll ended on Tuesday amid allegations of bribery and circulation of unverified videos of notes distribution. The Election Commission had refused to postpone the RK Nagar by-election any further despite pleas from the opposition DMK, saying there was no proof. The counting of votes will be held on December 24.
Here are the highlights of the RK Nagar by-election in Chennai:
RK Nagar By-Election - Important Facts And Figures
The RK Nagar by-election is seen as an acid test for the ruling AIADMK, as it is the first election since the death of former Chief Minister Jayalalithaa. Though as many as 59 candidates are contesting, the RK Nagar bypoll is mainly seen as a fight between the ruling AIADMK, its rival faction led by TTV Dhinakaran and main opposition party DMK.
Here are some important facts about the RK Nagar By-election being held today:
RK Nagar has an electorate of 2,28,234, comprising 1,10,903 men, 1,17,232 women and 99 transgenders.
Elaborate security arrangements are in place with about 2,000 State police personnel, 15 companies of Central Armed Police Forces, including CRPF deployed across 256 polling stations.
The polling process is being monitored by nine observers, considered the highest for a single assembly constituency.
This includes general, special, police and expenditure officials. Ninety six flying squad teams, 21 Static Surveillance Teams and 20 Video Surveillance Teams have been deployed by election authorities.
A total of 45 check points in and around the constituency are also manned by election officials. The run up to the RK Nagar bypoll saw political parties and candidates holding as many as 152 public meetings, rallies, roadshows and taking out 605 processions. Campaigning ended on December 19.
Till yesterday and starting from November 24, a total of Rs 30,79,382 unaccounted cash was seized and 124 police cases (FIRs) were registered for election violations and offences.
Fifteen people were remanded to judicial custody, 122 taken into preventive custody and 83 vehicles seized for various violations.
Counting of votes will be taken up on December 24 and the results are expected to be out by afternoon that day.