Highlights
Video was released reportedly by lawmaker supporting TTV Dhinakaran
Jayalalithaa was in hospital for 3 months until she died in December 2016
Apollo Hospital said she was unconscious when she was brought in
Chennai:
J Jayalalithaa is seen sitting up on a bed and sipping a drink in what is believed to be the first-ever video of the former Tamil Nadu Chief Minister in hospital before she died a year ago. The 20-second video, reportedly filmed by her long-time friend VK Sasikala, added a new twist to the
bitterly-fought by-polls to be held tomorrow at Chennai's RK Nagar
, vacant since
Jayalalithaa's death
.
The Election Commission ordered TV channels to take the video off air, calling it a violation of the poll code.
The video was released by V Vetrivel, a lawmaker of the ruling AIADMK who is now in a rebel camp led by Sasikala's nephew TTV Dhinakaran.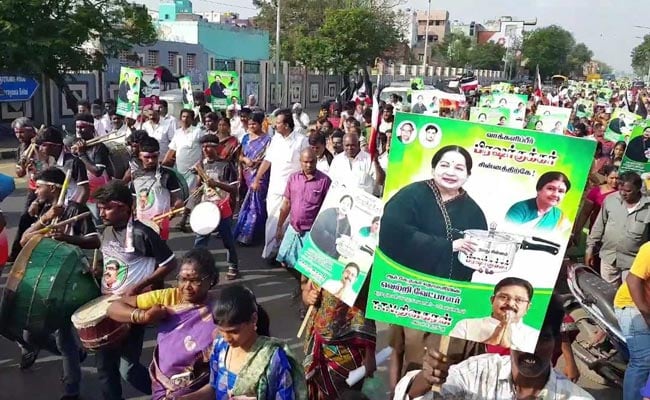 In the bitter campaign in RK Nagar, the AIADMK repeatedly raised questions about Jayalalithaa's hospital stay and death, implying that Sasikala and her family hid the true picture for political reasons and were responsible for the situation leading to her death.
Mr Dhinakaran had said that he did have video proof of Jayalalithaa alive and recovering in hospital, but did not want to show it to the world as the former Chief Minister would not have liked to be seen in that state.
Sasikala was among the few people allowed to see the Chief Minister until she died on December 5, 2016. After Jayalalithaa's death, Sasikala took charge of the party and even tried to become Chief Minister until she was jailed by the Supreme Court for corruption.
While Sasikala is serving time, Mr Dhinakaran, who was sidelined by the AIADMK earlier this year, is contesting the RK Nagar by-polls against the official party candidate, E Madhsudanan. The DMK is also contesting what is turning out to be a triangular contest.
The video has drawn howls of protest from the AIADMK, which describes it as a demeaning act aimed at denigrating Ms Jayalalithaa's image in a warped attempt to influence voters.
Jayalalithaa was in hospital for three months last year until she died of a cardiac arrest.
She was never seen in public after being admitted to hospital, which triggered a massive conspiracy about her treatment and death. Some suggested that Jayalalithaa was dead when she was brought to hospital but an elaborate pretense was kept up to project that she was alive and in charge.
Fisheries Minister D Jayakumar said, "the Sasikala family gave trouble to Jayalalithaa when she was alive and even after her death too they trouble her. Why didn't they present this before the inquiry commission (probing Jayalalithaa death)? This is clearly done with the by-poll in mind ".
DMK leader MK Stalin said the video would not have any impact on the poll.