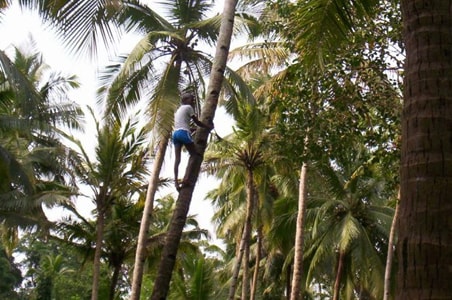 Cuddalore:
When Cyclone Thane wreaked havoc on Thazanguda, a coastal fishing hamlet here, it destroyed the source of potable water but gave villagers an alternative: tender coconut water as hundreds of coconut trees had being uprooted.
When a reporter asked for drinking water, villager Barathi said, "We have no drinking water but we plucked plenty of tender coconuts from the uprooted trees and stored them. You can have them." Thazanguda in a sense became a metaphor for most coastal villages in the area as all of them were equally ravaged and had similar issues while picking up the pieces.
Cuddalore being the worsthit district, all essential items were in short supply like milk. No wonder, the black market thrived. "At Thazanguda, a litre of milk was priced at Rs 40. Since most of us couldn't afford it, our children made a meal of coconut kernels and ilaneer," said Parasuraman, another villager.
Over 150 fishing boats got damaged at Thazanguda; and 10 of them submerged in the Uppanaru River. Many had tied their boats to coconut trees for safety. It is a decision they rue as uprooted trees fell on the boats and damaged them.
"Boats along with fishing nets and motor engine cost Rs 2.50 lakh. We hope we will get adequate compensation," said Meganathan.
Meanwhile, in Gundu Uppalavadi village, locals stopped a police vehicle demanding drinking water and milk. "Many of us lost our houses in the cyclone and are taking shelter in neighbouring houses and schools. Till now, no one has given us water and food," said Lakshmi, a resident.
Collector V Amuthavalli and disaster monitoring special officer Apoorva on Saturday took steps to bring drinking water and milk from neighbouring districts.
Over 50 lorries carrying water were seen coming into Cuddalore from Villupuram, Tiruchy, Tanjore, Pudukottai and Chennai. Neyvali Lignite Corporation also supplied water to the people.