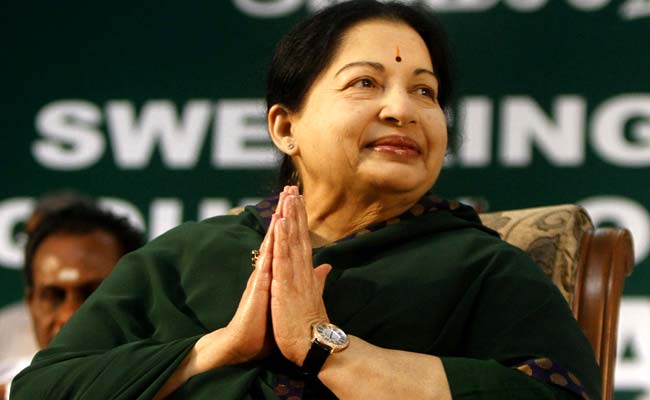 Chennai:
At a press conference today, a team of Apollo doctors, including the specialist from London, Dr Richard Beale, in an attempt to quell all rumours about former Tamil Nadu Chief Minister's illness, subsequent treatment and the events that led to her death, clarified that there was nothing strange about Ms Jayalalithaa's illness and that they suspect no conspiracy behind it. The doctors detailed the process of her treatment and said Ms Jayallaithaa - during her recovery - was interacting, watching TV and walking. The doctors said she had sepsis (serious infection) and died of a sudden cardiac arrest.
Ms Jayalalithaa was admitted at Apollo Hospital on September 22 with complaints of fever and dehydration. Ms Jayalalithaa, 68, died at 11.30 on December 5. The former chief minister was buried with full state honours in a sandalwood casket next to the memorial of her mentor, MG Ramachandran or MGR at Chennai's Marina Beach. Ms Jayalaithaa's last rites were performed by her long-time companion VK Sasikala, who now holds charge of the party, the AIADMK.
Here are the highlights of doctors' statements at the press conference:
She was brought to the hospital after she became short of breath at home.
People become unwell in a matter of hours when they require long treatment.
Madam had diabetes.
You would have seen the press releases… It was supportive and critical care given between September 22 and December 5, when she was declared dead.
At the start she was diagnosed for sepsis. The possibilities of infection initially were narrowed to chest and urine. It was later discovered that there was bacteria in her blood.
It was Infection with damage to organs that led to her death. The best of treatment was given to her.
When she was brought to the hospital she was drowsy. She was treated with non-invasive ventilation. Her condition improved.
She gained consciousness with treatment. She was eating, talking to officials approximately for a week.
She was communicating on and off... but then her condition worsened, so she had to be put on a ventilator. We performed a tracheotomy following which she was in a position to communicate, but due to tiredness, she mainly spoke using sign language.
We, the doctors, could understand what she was saying also by lip reading.
It's against the protocol to allow a person who is critically ill to be photographed.
We have said everything we could in the public domain. A patient's privacy must also be respected.
On Ms jayalalithaa's cardiac arrest
Her potassium levels were not high on that day. It was checked in the morning. She had a sudden cardiac arrest.
All the facilities were available at her bedside. She was later shifted to the intensive care unit.
A medical personnel was available in the room. The on-call cardiologist present in the hospital was there in a few minutes.
The core team was informed immediately. Resuscitation was also started immediately. But she could not be saved despite the best attempts.
On the press conference being held two months after her death
I (Dr Richard Beale) am here when I was asked to be available. My availability was limited. But this press conference was conducted when the state facilitated it.
On Interaction with the former chief minister
Dr Richard Beagle - We talked about television and food, and her recovery. I told her about my kids. I go a sense of how strong she was, and dedicated as a leader. Her interactions had signs of the extraordinary person she was. It was a privilege and honour to treat her.
On Ms Jayalalithaa's condition during recovery
When she was recovering, she spoke to people, she watched TV and was also able to walk a few steps, but not a lot, she was very weak.
On Jayalalithaa's transfer to London for treatment
The issue of transfer of patient to London was discussed. Yes, there is always a degree of risk, but with the resources at hand, almost anyone can be transported. We consulted her and she was the one who decided that she did not want to be transferred to London.
A brief timeline from when Ms Jayalalithaa was admitted till her death:
She got admitted on September 22. She was in ICU with non-invasive ventilator.
She was slowly taken off of the ventilator when her condition improved.
She was later moved to the room. She was only on respiratory support.
She had a sudden cardiac arrest in the room days later.