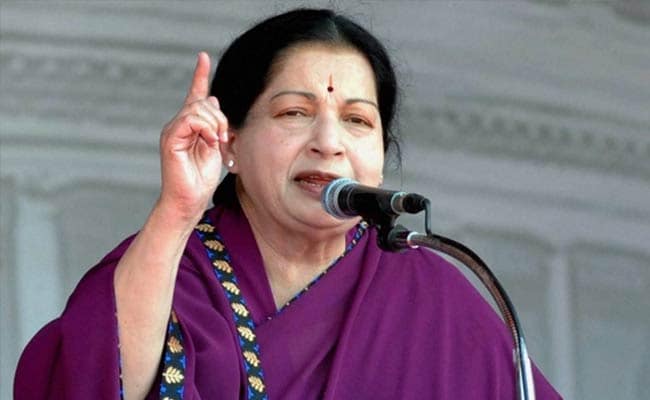 Chennai:
Tamil Nadu Chief Minister J Jayalalithaa today said that 20 railway projects announced in successive budgets for the state were yet to take off for want of funds and urged Prime Minister Narendra Modi's intervention for expediting them.
She said that a draft MoU by Railways regarding forming a Special Purpose Vehicle (SPV) for three projects did not adequately reflect certain concerns of her government.
In a letter to PM Modi, Jayalalithaa said she had proposed 10 railway projects to boost industrialisation as part of 'Vision Tamil Nadu 2023', with three of them being prioritised for implementation through SPV between state government and the Railways.
"Given the importance of these three projects, the Government of Tamil Nadu has already indicated that it would be willing in-principle to enter into an MoU with the Indian Railways," she said, adding, her government had indicated "some specific conditions."
Since land was "typically" provided by Tamil Nadu, it should be treated as part of the state government's equity contribution to the SPV at market value, she said.
Other conditions included matching equity contributions from Railways in cash or in the form of land owned by it or other Central Government departments.
In the case of equity contributions in cash, there should be assurances that the funding would be made in time to ensure that projects did not suffer delays due to lack of adequate funding. Further, the governance structure should be well-balanced, with adequate participation of the state government, she said.
"In the draft MoU circulated by the Ministry of Railways, these concerns are not adequately reflected. The draft MoU would require revision before it becomes acceptable to the Government of Tamil Nadu," she said.
"I request you to kindly direct the concerned officials of the Ministry of Railways to engage in constructive discussions on evolving a fair, balanced and acceptable draft of the MoU," she said.
Further, work on 20 projects announced in earlier Railway budgets were yet to commence for want of funds, she told PM Modi and requested him to expedite these in the interest of the travelling public.
"I request you to expedite these railway projects and allocate sufficient funds in the budget for completion of the projects early. I hope that the ensuing railway budget will fulfill the long pending expectations of the travelling public of Tamil Nadu," she said.