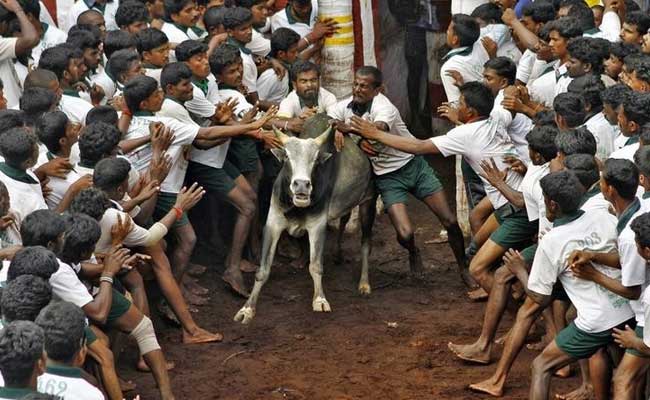 New Delhi:
The Centre has told the Supreme Court that it was ready to withdraw its 2016 notification that allowed Jallikattu, the bull taming sport which had been banned by the court in 2014. The notification by the NDA government had removed bulls from the list of animals which cannot be used as performing animals. The court, which was hearing an appeal against the 2016 notification, had reserved its verdict on its legal validity. The court had also put a freeze on the notification, disallowing Jallikattu again.
The centre's move is a tactical one after the Tamil Nadu assembly unanimously passed bill allowing Jallikattu. This move is to prevent the top court not only from delivering verdict on the validity of Jan 2016 notification but to stop any adverse comments in the judgment.
The challenge to the notification from a group of animal rights activists, who contend that the sport involves cruelty to the bulls, was being heard by a bench comprising Justices Dipak Misra and Justice Rohinton Fali Nariman. On Tuesday, the bench asked Attorney General Mukul Rohatgi to file an appeal for the withdrawal.
The NDA government's notification came after Tamil Nadu has requested the centre to help bring back Jallikattu. The sport, which Tamils consider a part of their ancient culture, is held during the harvest festival Pongal.
Besides, Jallikattu, the January 8 notification had also allowed bullock-cart races in Gujarat, Haryana, Karnataka, Kerala, Maharashtra and Punjab.
The ban on Jallikattu for the second year in a row had triggered massive protests across Tamil Nadu. Thousands had gathered on Chennai's Marina Beach for a week, demanding that the sport be re-introduced. Following the protests, the government had moved the top court, urging it not to pronounce its judgment for a week.
On Saturday, the Tamil Nadu government issued an ordinance to permit Jallikattu and a law was unanimously passed by the state assembly on Monday for a "permanent solution" as demanded by the protesters.