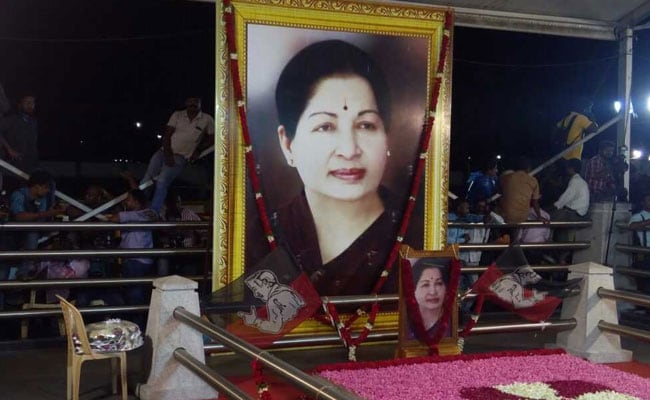 Chennai:
A leader from Tamil Nadu's All India Anna Dravida Munnetra Kazhagam (AIADMK) held his son's wedding ceremony at former party chief J Jayalalithaa's memorial on the Marina beach in Chennai on Wednesday.
The final resting place of Jayalalithaa was decorated for the occasion with a colourful array of flowers and garlands as SP Sambasivaraman alias Satish, son of AIADMK leader S Bhavanishankar, married R Deepika in a traditional ceremony.
The couple sat right in front of the memorial for the wedding ceremony along with friends and relatives.
A priest chanted hymns and the marriage was solemnised with the groom tying the "mangalsutra" around the bride's neck.
An "aarti" was also performed as a mark of respect to Jayalalithaa. Party workers said the marriage at the memorial gave them the satisfaction of the wedding being blessed by the late leader.
Using flowers, two-leaves symbol of the AIADMK was drawn in green on the floor and the portrait of Jayalalithaa was decorated with garlands.
Veteran party leader A Thamizh Magan Hussain, former State Minister S Gokula Indira attended the wedding.
J Jayalalithaa died on December 5, 2016 and was buried behind the memorial of her mentor and AIADMK founder leader MG Ramachandran abutting the Marina Beach.