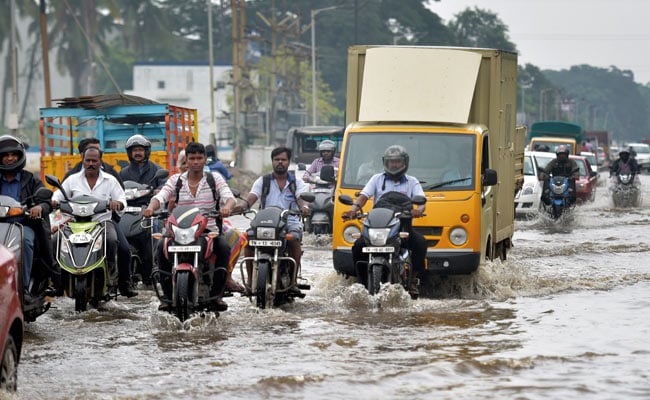 Tamil Nadu:
Days after the north-east monsoon set in
Tamil Nadu, heavy rain
in the last few hours have refreshed the not-so-pleasant memories of the 2015 floods that followed the "heaviest rainfall in over a century", leaving its capital Chennai and other parts submerged and an unprecedented trail of destruction and death.
The overnight downpour prompted the Tamil Nadu disaster management authority to request residents to stay indoors unless it's really necessary. Schools and colleges in Chennai will remain closed and Anna University exams have also been postponed. IT companies have also been advised to declare a holiday or allow employees to work from home.
Tamil Nadu State Disaster Management Agency's official handle tweeted that the "entire govt machinery is working round the clock to help citizens through 24*7" and shared the helpline numbers.
Entire govt machinery is working round the clock to help citizens through 24*7#ControlRoom
Please RT 4 these silent heroes#ChennaiRainspic.twitter.com/ci2Ca51Egi

— TN SDMA (@tnsdma) November 2, 2017
Twitter users also shared helpline numbers as well as their own as they offered to drop those stranded on streets or looking for accommodation.
RJ Balaji, who said that the "intense spell of rain reminded me of d scary rains of 2015 Dec 1", encouraged the people of Chennai to help others. "If u r out thre with a vehicle,you b safe n Plz offer LIFT to people who r stranded on roads. Thre r no rental cars and autos. #ChennaiRains"
He also urged people not to circulate messages on "Whats app groups, page admins and everyone across social media plz dont share unauthentic information that too with a random 'VERIFIED' tag" that could spread panic.
Actor Chandran tweeted, "Any1 stuck around Thiruvanmiyur pls DM me..any ladies returning back 4m work who needs shelter..u ve a family dat wil tc of u."
Then there are others are concerned about the animals on streets. "I'm unable to sleep really worried about animals outside ,#ChennaiRains . People if you find any animals please give space in ur house," animal lover @ParvathiPuppy tweeted.
Twitter user Prashanth Rangaswamy and Suriya offered their personal numbers for any kind of help.
While the weather department assured that they are prepared and there won't be repeat of 2015 floods, many aren't convinced.
Demanding answers from the government, Aravind Ramesh wrote, "We had 2 years to learn. 730 days to stop this from happening again. But, nothing has changed!"
Sumanth Raman pointed out that "parts of Chennai built by British like Kilpauk, Nungai, Egmore, PH Rd.etc.survive heavy rain better than newly dev. Areas".