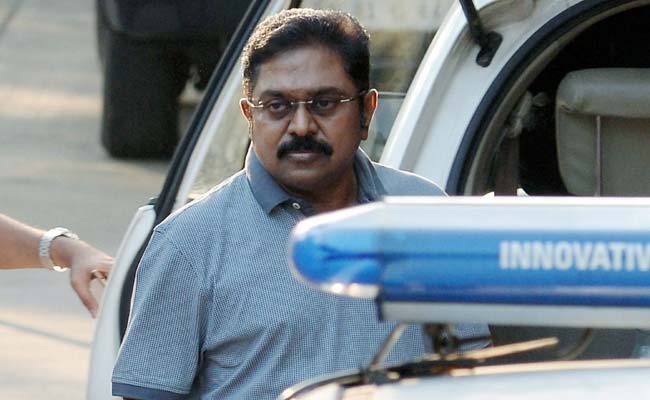 Chennai:
Bolstered by two more MLAs joining him, sidelined AIADMK leader TTV Dinakaran today said his camp was confident that Governor C Vidyasagar Rao will take a "good decision" on representation given by his legislators seeking Chief Minister K Palaniswami's ouster.
Asserting that his aim was to safeguard the party, he said the group (of his loyalist MLAs) was hopeful that Mr Rao will "take a good decision."
Describing the governor as a "legal expert", Mr Dinakaran told reporters in Chennai that "justice", for which his loyalists had taken up cudgels against the incumbent dispensation led by Mr Palaniswami, "will win".
"I will work with them (his loyalist MLAs)," the sidelined AIADMK leader said.
On Speaker P Dhanapal's notice to his loyalists, Mr Dinakaran, whose support from the ruling MLAs has gone up to 21, said, "We are bound only by truth and God and this is a war between sacrifice and betrayal. None except God can intimidate us."
He said it would not be true if there are any claims that his loyalist MLAs have gone to Puducherry out of fear. "Ninenteen of them have gone there with a passion of sacrifice, to safeguard the party and the whole India is watching the situation," Mr Dinakaran said.
"They are in Puducherry with the confidence that Governor Rao will expeditiously fulfill their representation," he said, adding money cannot buy his loyalists.
"To bring a realisation that the party can be led only by the general secretary, they are there (Puducherry) and not due to fear of somebody," Mr Dinakaran said.
AIADMK's interim general secretary VK Sasikala is serving a prison term at a Bengaluru prison following her conviction in a disproportionate assets case.
Adorning sacred beads worn by devotees who visit the holy shrine of Sabarimala in Kerala, Mr Dinakaran said he will visit the temple.
Meanwhile, Mr Dinakaran's confidante Thangatamilselvan told reporters in Puducherry that if the chief minister was not replaced, they will meet President Ram Nath Kovind on this issue.
"We want to strengthen the party and Mr Palaniswami does not have that capability. He does not have the administrative acumen too. If he is not replaced, in keeping with our demand, we will meet the President in two days," he said.
To a query on notice from the Assembly Speaker, Mr Thangatamilselvan claimed, "This (notice) is not legally valid and will not bind us and they cannot disqualify us."
He said this was being done only to "intimidate" Dinakaran's loyalist MLAs.
Last night, AIADMK MLA from Vriddhachalam VT Kalaiselvan met Mr Dinakaran and extended his support to the sidelined leader, taking the number of rebel MLAs to 21.
Earlier, Aranthangi MLA E Rathinasabapathy had also reportedly expressed his support for Mr Dinakaran. The state has witnessed a political crisis ever since the Palaniswami and former chief minister O Panneerselvam's factions merged on Monday.
Of the 234-member Tamil Nadu Assembly, the AIADMK has 134 MLAs. There is no one representing the RK Nagar constituency in the House from where late AIADMK supremo and former chief minister Jayalalithaa had contested.
The DMK has 89 seats, Congress eight and IUML one.