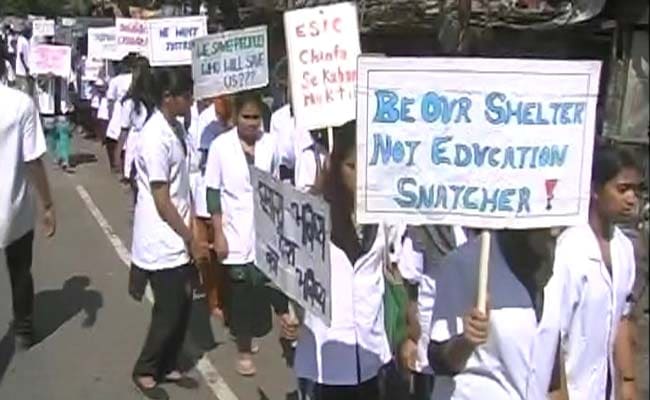 Chennai:
Hundreds of students in medical colleges run by the Employees of State Insurance Corporation (ESIC) are facing an uncertain future after the Union Labour Ministry's recent decision to exit the field of medical education. The ESIC runs 11 medical colleges in 16 states.

Though the Tamil Nadu government can take over the medical colleges, the Labour Ministry demands Rs 376 crore for contractors to build the structure for medical colleges and buy equipment.

The ruling AIADMK is yet to take a decision in this regard.


Sources in the government say that the Tamil Nadu government has a budget of Rs 189 crore to establish a new medical college. While they are ready to take over a medical college from the ESIC instead of setting up a new one, sources say the high cost quoted by the ESIC could lead to lengthy negotiations.
The delay in decision has been a cause of immense worry among the ESIC's Chennai medical college's nearly 250 students.
The students are already on protest after the Medical Council of India's refusal to recognise post graduate doctors who have completed their degree from the institute. The MCI made the decision last year, citing inadequate infrastructure and faculty at the Chennai institute.
Dr PN Chandrika Saravanan, who recently finished her MD from the institute in Chennai, is without a job. "When your degree is not recognised, you cannot work in any of the medical colleges in Tamil Nadu, nor can you pursue higher studies," she said.
S Soundharya, a post graduate student pursuing her MS, said, "We are worried that when we get our degree, it's going to be the same for us."
The ESIC has not admitted any students in the Chennai institute this academic year. The authorities say in the worst case scenario, the students will be transferred to other colleges in the state.