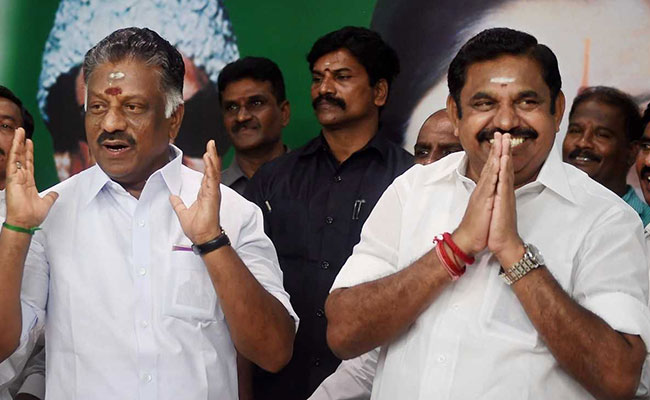 Chennai:
The DMK today urged Tamil Nadu Governor C Vidyasagar Rao to immediately direct Chief Minister
Edappadi
Palaniswami to prove his majority in the Assembly in the wake of revolt by 19 AIADMK MLAs, saying any delay could lead to "horse trading".
DMK working president and leader of the opposition in assembly MK Stalin, who had earlier this week written to the Governor seeking a floor test, dubbed the Palaniswami regime as a "minority government".
In a statement released in Chennai, he also questioned assembly Speaker P Dhanapal's action in issuing notices to the 19 MLAs yesterday on a memorandum by the Government Chief Whip seeking their disqualification for alleged anti-party activities.
Mr Stalin said had earlier written to the Governor urging him to immediately ask Mr Palaniswami to prove majority in the assembly.
Mr Rao should have immediately convened the assembly to ascertain the government's present strength after the MLAs loyal to sidelined AIADMK deputy general secretary TTV Dhinakaran met him and sought Palaniswami's removal on Tuesday, he said.
Mr Stalin said the Governor should ensure that Mr Palaniswami does not continue in power by "creating a constitutional crisis and misusing anti-defection law".
Referring to the Speaker's action, Mr Stalin said the notices had been issued in connection with an episode that did not happen in the assembly.
While the Speaker had not acted against present Deputy Chief Minister O Panneerslvam-led faction for voting against the government in the February 18 trust vote as the then rebel faction, he had issued notices to the 19 MLAs from Dhinakaran camp now, the DMK leader said.
"It is clear the Speaker has done so to save Palaniswami's minority government. During such times, every day's delay by the Governor in directing a confidence vote will pave the way for horse trading and other political manoeuvres," he alleged.
Mr Stalin's remarks come even as the 19 MLAs remained in a resort in Puducherry and have dismissed the disqualification demand as a "planned drama" and "intimidation" tactics.
The Dhinakaran camp MLAs raised the banner of revolt a day after the AIADMK factions led by Mr Palaniswami and former chief minister O Panneerselvam merged on August 21.