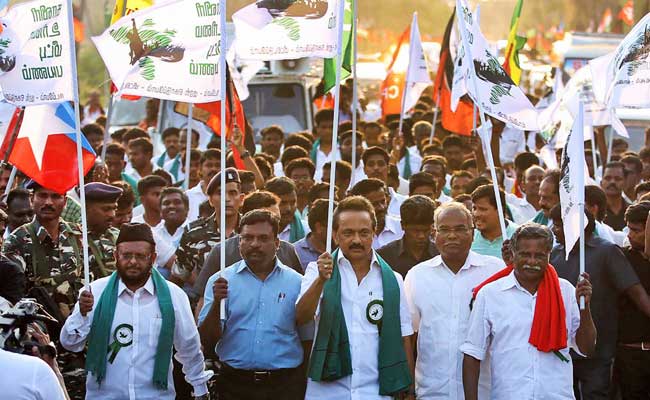 Tiruvarur, Tamil Nadu:
DMK working president M K Stalin today appealed to the people to hoist black flags atop their houses on April 12 when Prime Minister Narendra Modi visits Tamil Nadu.
Mr Stalin made this appeal while addressing a meet on the
Cauvery issue
at Kottur, about 35 km from here.
He asked how could PM Modi visit Tamil Nadu after "betraying the State on the Cauvery issue."
PM Modi is scheduled to formally inaugurate the Defence Expo 2018 at Thiruvidanthai, about 40 km from Chennai, on that day.
The DMK leader said the day of PM Modi's visit is a day of 'grief'
(dukkha naal)
for the state in view of the Centre's 'betrayal.'
He said people should not only hoist black flags in their houses but also wear black clothes and badges as a mark of opposition and protest.
Mr Stalin had said his party would show black flags to PM Modi as a mark of protest over the Cauvery issue.
The DMK leader, who is here on his fourth day of Cauvery Rights Retrieval Yatra, alleged that despite a clear Supreme Court verdict, the Centre did not come forward to set up the Cauvery Management Board.
He said opposition parties would submit a memorandum to Governor Banwarilal Purohit on April 13 asking him to urge the Centre to set up the CMB immediately.
Mr Stalin said the parties would tell Governor Purohit that "we do not have faith in Chief Minister K Palaniswami and there is no use in believing the State government."
Hitting out at the AIADMK regime on the Cauvery issue, he demanded the government's resignation.
Palaniswami was toeing Prime Minister Narendra's line for fear of "losing the chair," Mr Stalin said.
Mr Stalin began his Cauvery yatra on April 7 from Mukkombu near Tiruchirappalli and is covering the Cauvery basin region of Tamil Nadu.