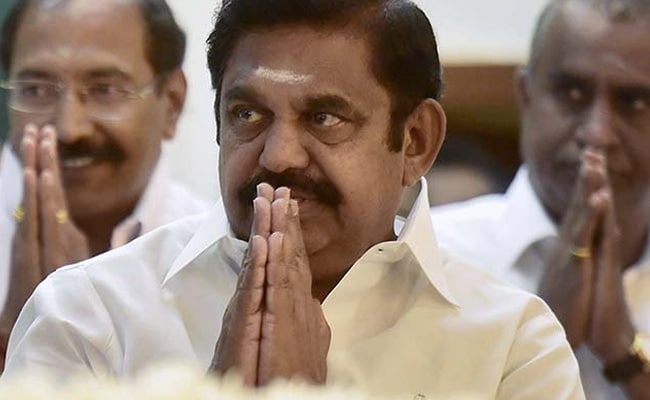 Chennai:
In significant remarks, Tamil Nadu Chief Minister K Palaniswami today said any move by pro-Dhinakaran disqualified MLAs to return to AIADMK fold was welcome, but indicated he was not aware of any such plan.
"Only you are saying that, if they join it is laudable," he told reporters here when asked about claims by some quarters that eight disqualified legislators led by Thanga Tamilselvan were likely to come back to the AIADMK fold.
The remarks of K Palaniswami, co-coordinator of the ruling AIADMK, come days after senior minister D Jayakumar said
it was for the party to take a decision
on admitting the disqualified MLAs, loyal to sidelined leader T T V Dhinakaran.
However, he had said there was no question of Mr Dhinkaran and his aides being taken back into the party fold.
Asked if Thanga Tamilselvan will be given a Ministerial berth, Mr Palaniswami shot back asking,"how it can be given?"
Answering another question, he said there can be no bypolls to the constituencies previously represented by the disqualified MLAs as the matter was in the court.
Thanga Tamilselvan has said
he would withdraw his petition
in the Madras High Court challenging his disqualification by Assembly Speaker P Dhanapal, but ruled out joining the ruling AIADMK camp led by Palaniswami and his deputy O Panneerselvam.
He said the people of his constituency have endorsed his decision to take back his plea in the court.
A staunch loyalist of Amma Makkal Munnetra Kazhagam chief and sidelined AIADMK leader T T V Dhinakaran, Thanga Tamilselvam said consultations will soon be held with the 17 other disqualified MLAs.
"It will be effective if all the 18 MLAs," withdrew their petitions challenging their disqualification.
Thanga Tamilselvan is one of the 18 MLAs who were disqualified last year following their revolt against the chief minister.
A day after the factions led by Palaniswami and erstwhile rebel leader Panneerselvam merged on August 21, 2017, MLAs owing allegiance to T T V Dhinakaran met the then Governor Ch Vidyasagar Rao, and sought a "change," in leadership saying they had lost confidence in K Palaniswami.
On June 14, the Madras High Court
delivered a split verdict
on the petitions challenging disqualification of the 18 MLAs.
Chief Justice Indira Banerjee upheld the September 18 order of Speaker Dhanapal disqualifying the MLAs, while Justice M Sundar disagreed with her and set it aside.
The verdict had come as
a massive relief
for the Palaniswami government as the restoration of the membership of the MLAs could have brought it perilously close to losing majority in the event of their joining hands with the opposition DMK-Congress-IUML alliance, which together has 98 MLAs in the 234-member assembly.
In that eventuality, the Opposition's strength would have swelled to 117, including T T V Dhinakaran, who is the lone independent MLA. The AIADMK also has 117 members in the House, including the Speaker.