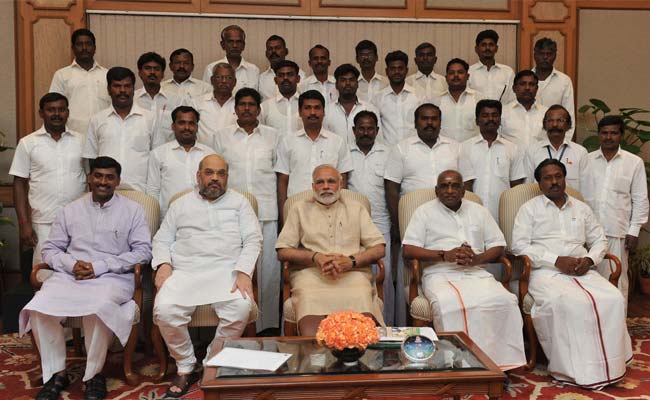 New Delhi:
Prime Minister Narendra Modi today assured a delegation of Devendrakula Vellalars, a community of people from southern Tamil Nadu, that the Centre would initiative steps to rename their community as Devendrakula Vellalar.
The assurance was given to the delegation led by Devendra Charitable Trust Chairman Thangaraj in the presence of BJP chief Amit Shah and Union Minister Pon Radhakrishnan in New Delhi.
According to BJP general secretary and in-charge of party affairs in Tamil Nadu P Muralidhar Rao, who was also present during the meeting, the community is being identified as different groups and there is a demand for collectively renaming the community as Devendrakula Vellalar.
A press release here said that Modi, while welcoming the delegation, said that the Devendra Samaj did not think about their self-interests but adopted the path of self-respect, which is a big social reform. This will show the coming generations the path of self-reliance and pride, it added.
The release also said that Mr Modi accepted the invitation from the delegation for Kumbhabishegam ceremony, while lauding the high values of the community.
The delegation lauded the progress and upliftment of India's stature under the leadership of Mr Modi, the statement said.
The delegation spoke about Devendrakula Vellalars role in the history and its commitment to social harmony. They also handed over a memorandum to the Prime Minister.