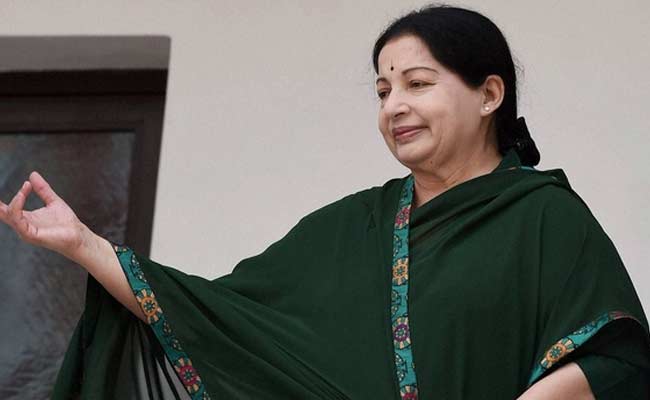 Chennai:
Tamil Nadu Chief Minister Jayalalithaa today said relief work continued on a war-footing in districts hit by the heavy rains observing that damages due to very heavy rains was "inevitable."
Amid opposition's criticism against her government for "not taking sufficient precautionary measures" to tackle rain and floods, Ms Jayalalithaa said "although preventive measures were taken, the damages due to very heavy rains were inevitable."
"When such damages occur, it is the hallmark of a good government to ensure that quick relief and rehabilitation measures are undertaken and in that sense relief work is on in affected districts on a war footing," she said in a statement.
Opposition parties including DMK and PMK had accused the government of not taking sufficient precautionary measures to tackle the fallout of heavy rains.
Disruption in power supply, flood, and breaches in some lakes and canals were among the issues following heavy rains.
Ms Jayalalithaa gave an exhaustive list of preventive measures and relief work undertaken to tackle the impact of the recent heavy rains besides solatium to the victims.
"A team of senior ministers and officials were sent to Cuddalore District following heavy rains on November 9 and 10 there." Out of the 683 village panchayats, power supply has been restored in 635 of them in Cuddalore District and drinking water is being supplied, she said.
Also, damaged State and National highways including the Vadalur--Kumbakonam stretch have been re-laid and normal vehicular movement was on, she noted.
A slew of medical camps, veterinary medical camps, food and water supply for those affected by flood, relaying of roads were, restoration of electricity supply were among the relief work carried out in districts including Cuddalore, Chennai, Tiruvallur and Kanchipuram, she said.
She said she has ordered deputation of officials and ministers to various districts in view of the recent forecast of the Regional Meteorological Centre cautioning heavy rains in the coming days.
The RMC in Chennai has predicted rain or thundershowers over coastal Tamil Nadu, Puducherry, and at many places over interior parts of the State on November 15, 16 and 17.
She has deputed senior IAS officials and ministers to various districts to take necessary precautionary measures and coordinate relief work in view of the forecast of heavy rain possibility over the next few days.
"I have ordered deputing IAS officials to various districts to take precautionary measures and for coordinating relief work", Ms Jayalalithaa said.
"Also, I have ordered the ministers to stay put in their respective districts and coordinate precautionary and relief work and render appropriate advice to officials," she said.
Chennai District Collector E Sundaravalli said fishermen were advised to not venture into sea as the Regional Meteorological Centre here has warned of squally winds tomorrow.
Today, the RMC in its forecast for the next two days said, "strong squally winds reaching 40-50 KM per hour gusting to 60 KM per hour would prevail over North Tamil Nadu and Puducherry."
An official release said, 21,500 personnel of the Chennai Corporation are carrying flood relief work on a war footing.
Law Minister SP Velumani inspected the work in corporation areas.
DMK treasurer MK Stalin after going around the rain-affected areas strongly criticised the AIADMK regime for its "ineffectiveness".
Rural Development Secretary Gagandeep Singh Bedi, who is camping in rain ravaged Cuddalore said all the water bodies in the district were being monitored continuously as rains continued.
"In view of continuing rains, it has been decided to cap the water storage level at Veeranam tank (which also supplies water to Chennai city) at 43.5 feet and 1036 cusecs of water is being released now," an official release here said.
Meanwhile, the CPI (M) Central Committee now in session at Delhi, in a statement expressed its "deep condolences to the families of over 108 people who have died due to unprecedented floods that continue to ravage parts of Tamil Nadu."
Districts of Cuddalore, Thiruvalluvar, Kanyakumari and areas of Chennai city are severely inundated, it said.
Meanwhile, Jayalalithaa ordered solatium to each of the next of kin of six more persons who lost their lives due to rain related drowning, electrocution and wall collapse.
The incidents occurred in Kanchipuram, Vellore, Krishnagiri, Villupuram, and Tirunelveli districts. Expressing her condolences, she said the financial assistance will be provided from the Disaster Relief Fund.