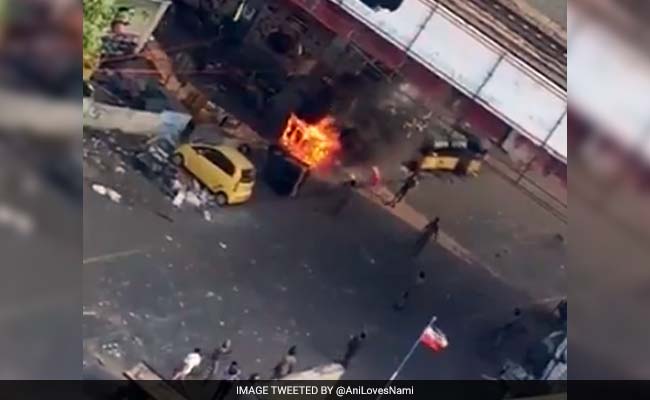 Chennai:
At least two policemen seen torching vehicles and a makeshift shed during Monday's violence over Jallikattu in Chennai have "almost" been identified, Additional Commissioner of Police K Shankar said on Saturday. "We should be able to reveal (their identities) on Monday. If that's genuine, strict action would be taken," he said.
On Monday, when Chennai's hold on a massive, peaceful protest demanding the legalisation of the traditional bull-taming sport Jallikattu loosened suddenly, the videos had tumbled out in quick succession.
Men and women in police uniforms setting autorickshaws on fire
, vandalising property, raising their lathis or batons high above their heads and bringing them down with crashing force on parked vehicles. Within minutes, the videos had been tweeted by top
Tamil personalities like Kamal Haasan and Arvind Swami, demanding the police explain what was caught on camera
. NDTV cannot verify the authenticity of the videos.
On Saturday, police also showed clippings recorded during the eviction of youngsters protesting along the Marina beach on Monday and the violence that sparked off in areas near the beach. The visuals showed protesters peacefully leaving the venue.
Their video also shows "anti-social elements", as the police called them, indulging in arson, hurling petrol bombs, attacking a joint commissioner's vehicle. They also displayed picture of killed terrorist Osama Bin Laden along the beach and another calling Republic Day a black day.
Amid claims by a group that the Bin Laden picture was during another protest, Mr Shankar said, "There's nothing wrong in carrying Bin Laden's picture. It shows their mindset and how other groups had infiltrated into student groups."
While the week-long pro Jallikattu protests were peaceful and forced the state government to amend laws act to pave way for conducting of the sport, the city witnessed violence soon after protesters were evicted leading to the arrest of around 200 people.