Highlights
Many videos of alleged violence by Chennai police shared on social media
A policewoman is seen setting fire to an auto in video tweeted by people
Footage is being investigated, said Chennai police chief
Chennai:
A woman stands at a door as a policeman comes at her with a baton and hits her. Another policeman targets the same woman. A third tries but the woman rushes indoors. This is one of the many videos shared on social media, allegedly of Chennai policemen caught in acts of violence during their crackdown on Jallikattu protesters yesterday.
In videos tweeted
by actors Kamal Haasan, Arvind Swamy and others, a policewoman is seen setting fire to an auto, a group of policemen set fire to a row of auto-rickshaws and policemen repeatedly strike a two-wheeler lying on its side.
"Another Video Tweeted... Forgive The Bad Language By The Tweeter," Said Arvind Swamy.
Police themselves burnt everything and put the blame on innocent students and this is the proof. @hrw@UNHumanRights@news7tamilpic.twitter.com/tNZs5tp2HF

— WeNeedJustice
NDTV cannot verify the authenticity of the videos, which were posted last evening with allegations that the police deliberately fuelled violence and blamed it on the people who had been protesting peacefully in support of bull-taming festival Jallikattu.
Expressing shock,
legendary actor Kamal Haasan today remarked
: "I hope the cops in these videos are actors, not real."
Chennai police chief S George, who had earlier called the videos morphed, has now said he will have the footage investigated. "An intelligence officer informed me that there was a picture of policemen indulging in violence. It is just ridiculous. We will find out," he said.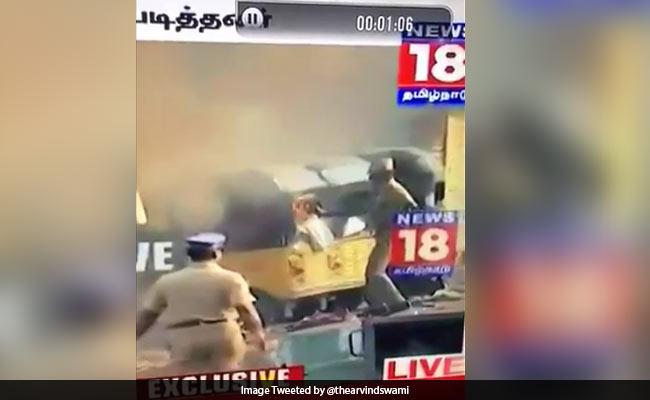 The ruling AIADMK has accused the DMK of circulating morphed videos to taint the administration.
In a video tweeted by DMK lawmaker J Anbazhagan, women allege that the police broke into their house and burnt down shops at a fish market.
"People were running, the police abused us very badly, lathi-charged us, behaved roughly...,"says one woman. Another alleges that the police broke her doors when no one was home. "How are we going to spend the night here with our two daughters? Why was our house damaged?" she says.
The police say they have arrested around 40 "anti-social elements"
for violence and arson yesterday
.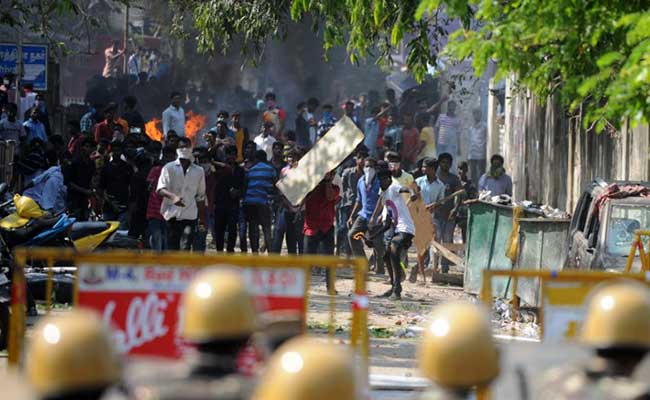 Protests in support of Jallikattu, peaceful over the past week, took a violent turn yesterday after the police forcibly removed thousands from Marina Beach, the epicenter of the campaign to bring back the ancient festival banned by the Supreme Court.
A new law to restore the tradition
was cleared by Tamil Nadu yesterday.