Chennai:
Who knew high school science classes could be fun - and even memorable enough for a Guinness World Record. But over a thousand students in Chennai managed exactly that when they got together for a one-of-kind biology lesson on Saturday as part of the ongoing India International Science Festival.
The class began with all the 1,049 students being individually tagged. Then, a local school teacher gave them a biology lesson and a demonstration on how to extract the DNA from a ripe papaya fruit.
At the end of it all, Mr Swapnil Dangarikar, Adjudicator, Guinness World Records said, "You have successfully broken the record and this is a the new Guinness Record for the largest biology lesson. Congratulations."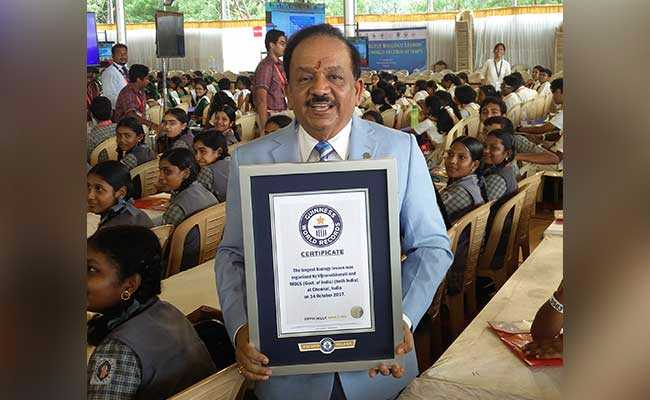 There were happy faces, posing for selfies all around at the end of 90-minute lesson. Ms Nithya Subramaniam, a student from Vana Vani Matriculation Higher Secondary School, Chennai said, "I feel amazing. I want to thank my school and the Government of India for this amazing opportunity. I love science and I am grateful that I was able to do something for science and made the country proud. Makes me so happy and I feel amazing right now."
At hand was a science minister who relished the moment. Dr Harsh Vardhan, Cabinet Minister for Science and Environment told NDTV, "Definitely, a proud moment. My congratulations to the students and teachers. They have got an award for the world's largest biology lesson. This shows the capability of the students and teachers. I am happy that they have given the country a welcome Diwali gift."