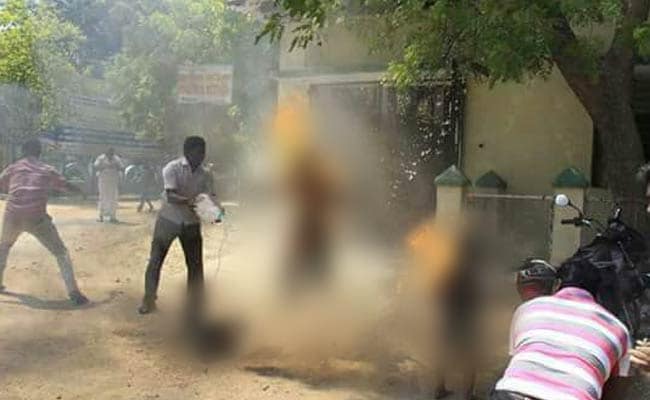 Chennai:
On Monday, a labourer in Tamil Nadu's Tirunelveli district poured kerosene on himself and his wife and two children, and set them afire. Burdened by debt, the labourer Isaki Muthu had alleged harassment by a loan shark and police inaction. Now, a mobile phone conversation recording - which NDTV cannot verify - has surfaced which raises suspicion that the police may have triggered the family's suicide by their insensitive approach.
The labourer's family has released four conversations between Isaki Muthu and what they claim are a sub inspector and a head constable of police. The family says these conversations were recorded by Isaki Muthu himself.
In the recordings, while one of them sounds polite and patient, asking Isaki Muthu to join for an inquiry following his complaint, another sounds insensitive and angry, even asking the labourer why should he live? Part of the conversation goes like this:
Alleged police officer to Isaki Muthu : Why do you live if you can't repay the loan?
Isaki Muthu: What?
Isaki Muthu: You only screamed at her (wife) and she has gone saying she'll die. I shall take care.
Police officer: Let her die. Didn't she take poison earlier too?
The family says the couple had borrowed 1.4 lakh from a private money lender. Even after they paid close to Rs 2 lakh as interest, the lender demanded the principal amount. The couple, they say, had given six petitions to the Collector but nothing resulted in concrete action against the money lender though usury has been banned in Tamil Nadu.
P Gopi, Isaki Muthu's brother, says, "We want the Sub Inspector and the Head Constable arrested."
The Tirunelveli police has arrested the money lender and her husband. Investigators claim the couple who are no more used the borrowed cash for lending at higher rates. They had also leased a few properties and rented them out. But things they say went wrong; the usurious interest went soaring and they got trapped in huge debt.
The probe, District Superintendent of Police Arun Sakthikumar says, includes lapses by police too. "I've asked to investigate lapses by police too and wrongdoers will face action as per legality," he said.