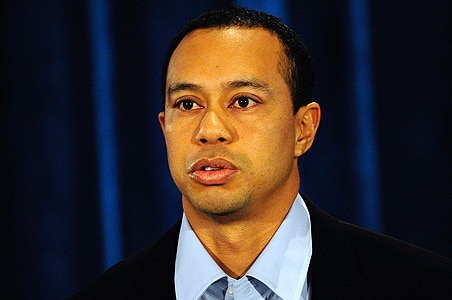 Los Angeles:
Timeline of the scandal involving Tiger Woods, who announced on Tuesday he would make his return to golf at next month's Masters tournament:
November 27, 2009
Woods suffers facial lacerations in a car crash outside his Florida home after colliding with a fire hydrant and a tree.
November 28, 2009
Florida Highway Patrol say they have been unable to speak to Woods and his wife, Elin Nordegren.
November 29, 2009
Woods issues statement taking full blame for crash, lashes out at rumors of domestic disturbance.
"I'm human and I'm not perfect," he says on website. "Many false and malicious rumors circulating about my family and me are irresponsible."
November 30
Woods pulls out of his own tournament, the Chevron World Challenge, in California. Florida Highway Patrol say they have yet to get his version of crash.
December 1
Police issue Woods a traffic citation for careless driving and a 164-dollar fine; say "there are no claims of domestic violence by any individual."
December 2
Cocktail waitress Jaimee Grubbs claims she had a two-and-a-half-year affair with Woods, who says via website: "I have let my family down and I regret those transgressions with all of my heart."
December 4-11
Several women come forward with claims of flings with Woods, including a porn star and a waitress. At least 10 women allegedly linked to Woods.
December 8
Woods' mother-in-law, Barbro Holmberg, is rushed to hospital from Woods' home, but is later discharged.
December 9, 2009
Lawmaker Joe Baca retracts bid to get Tiger recognized with Congressional Gold Medal.
December 11, 2009
Cocktail waitress Jamie Jungers claims she was "broken-hearted" after alleged relationship with Woods.
Woods says via website he will take an "indefinite break" from golf and apologizes for "infidelity."
December 13, 2009
Consulting firm Accenture ends six-year sponsorship of Woods, saying he is "no longer the right representative for its advertising." Other sponsors including Nike and Tag Heuer stick with Woods.
December 31, 2009
US telecom giant AT&T ends sponsorship deal with Woods, saying only that they "wish him well in the future."
January 4, 2010
Video game maker Electronic Arts Incorporated announces it will go ahead with plans to roll out an online game featuring Woods.
January 19, 2010
Woods is reported to be receiving treatment for sexual addiction at a clinic in Hattiesburg, Mississippi.
February 19, 2010
Woods makes first appearance since the scandal broke, apologizing for "selfish and irresponsible" behavior in a statement televised around the world.
March 16, 2010
Woods announces that he will begin his 2010 season at the Masters from April 8-11 at Augusta National Golf Club, the year's first major championship.