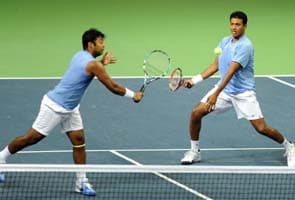 Melbourne:
The men's final is on Sunday but the big Australian Open game for all Indian fans will be played today.
Leander Paes and Mahesh Bhupati will take on the Bryan Brothers in the Men's doubles finals.
They had re-joined forces at the start of the season with an aim to add that elusive Australian Open trophy to their respective Grand Slam cabinets and after beating Max Mirnyi and Daniel Nestor 7-6 (5), 4-6, 6-3 in the semifinals they are close to realising their dream.
The Indian-Express, as they are known, will clash with America's two-time defending champions Mike and Bob Bryan, who steamrolled the unseeded duo of Eric Butorac and Jean-Julien Rojer 6-3, 6-2 in 54 minutes in the other semifinal.
The Bryan brothers are unbeaten at Melbourne Park in their last 17 outings.
Paes and Bhupathi last played together at a Grand Slam at the Australian Open in 2002 when they reached the second round.
They came into season-opening Grand Slam in a good nick as they had clinched the Chennai Open at home.
Paes has won 12 Grand Slam titles and Bhupathi 11 in their respective careers but they have never won the Australian Open men's doubles trophy.
Interestingly, Bhupathi has not won a men's doubles Grand Slam title since the 2002 US Open win with Mirnyi.
Paes and Bhupathi have won three of the four Majors, but have twice come short of winning the Australian Open title.
They were runners-up together in 1999 and while Paes reached the final in 2006 with Martin Damm, Bhupathi did it in 2009 with Mark Knowles.
The Bryans have a 9-8 record in major finals, while Bhupathi and Paes share a 3-2 mark.