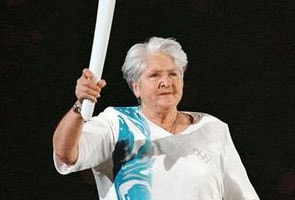 Melbourne:
Fearing a Munich Olympics like terror attack in India, legendary Australian swimmer Dawn Fraser on Thursday called on the athletes of her country to consider boycotting the upcoming Commonwealth Games in Delhi.
Winner of eight Olympic medals and holder of several world records, the 73-year-old Fraser said she does not believe in India's security promises.
"The Indians are telling us that security will be right. But they've also been telling us for months that their stadiums are ready to go too and quite obviously they're not," Fraser told 'Courier Mail'.
"I know Australia has never boycotted a Commonwealth or Olympic Games, but we're simply being told too many lies. There are now too many question marks for our officials not to consider it.
"I would hate to see another Munich but, with things getting worse and worse, I have grave concerns. I know the Australian Commonwealth Games Association is doing everything it can with security, but what's at the other end of the tunnel?," she asked.
During the 1972 Munich Olympics, 11 Israeli athletes, coaches and officials were taken hostage and killed by Palestinian terrorists.
Fraser said it is hard to believe the assurances given by the Indian organisers in the wake of repeatedly missed deadlines on venue completion.
"So they can't get a hockey venue right, yet they're still expecting everyone to trust them and turn up when they say it's all going to be OK," Fraser said.
Athletics stalwart Raelene Boyle, who won two Olympic silvers in Munich, went a step further and said Delhi should not have been awarded the Games.
"That's the bottom line. Regarding security, it certainly provides a precarious situation so it's really up to individuals whether they go," Boyle said.
"But they're young athletes who wait their whole lives for this - they'll go."