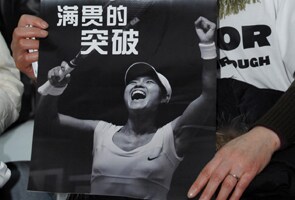 Chinese media on Sunday praised Li Na for blazing a trail as the first Asian woman to reach a Grand Slam final despite her three-set defeat in the Australian Open final.
Chinese newspapers expressed disappointment at Belgium's Kim Clijsters ending Li's hopes of becoming the first Chinese player to win a Grand Slam singles title on Saturday but said their star's best may be yet to come.
"Clijsters shatters Chinese dream" read a headline in the Shanghai Daily.
"Though frustrated, Li Na still has written a new page in Asian sports," state broadcaster China Central Television (CCTV) said on its website.
The 28-year-old from the central city of Wuhan sealed her position as one of the country's sporting legends, said Sun Jinfang, the head of the Chinese Tennis Association.
"Li Na is great despite the loss... I hope she can keep up the good form," Sun told Chinese web portal Sina.com.
Even Clijsters said she could feel the excitement of the Chinese fans during a thrilling final where she beat Li 3-6, 6-3, 6-3 in Melbourne's Rod Laver Arena.
"I think there was obviously a lot of Chinese or Asian people out there that wanted to live this moment with her," she said.
"It's nice to kind of see that Asia, and especially China, is starting to get recognised in this sport, too."
Tennis is still building a following in China and lags behind basketball and football in popularity in a country of 1.3 billion.
Before Saturday's final, Jiang Heping, the head of CCTV's sports channel predicted 15 million people would watch the match in China, an audience share of only 0.8 or 0.9 percent, web portal Sohu.com reported.
The actual ratings were not immediately available on Sunday morning.
"I'm better known abroad than in China," Li told Shanghai's Xinmin Evening News in an interview on January 19.
Li will move into the number seven spot when the new WTA rankings come out on Monday -- a career best.
She said in Melbourne that she hoped her success would help spark a tennis boom in China -- where an estimated 12 million people play the sport regularly -- and inspire young players to follow in her footsteps.
China Daily sports editor Yu Yilei wrote in a column on Sunday that he thinks Li's success will help spread tennis fever.
"I became convinced of that when two of my colleagues, who probably have never watched a live match in their lives, rushed into my office and started to watch Li in the final," he said.